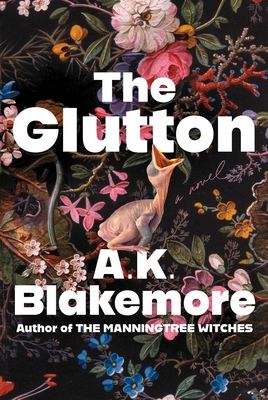 December 4th
7pm
McNally Jackson Williamsburg
Have you ever hungered for something more? Or maybe you've been told you want too much: too much power, money, food, sex. Maybe you've been told you are too much— too fat, thin, hungry, loud, ambitious… We're curious about appetites. What constitutes too much—or too little; who gets denied what they want, and why. This book club aims to examine the desires of those on the fringes, and what happens when we give in to or suppress those desires. No matter how… unusual these desires may be. We will draw on texts across genres, ranging from memoir to horror to literary and short fiction. Come join us, and sate your appetite for something more.
This month we will discuss A.K. Blakemore's "obscenely beautiful" novel, The Glutton.
"Gorgeous and brutal, striking and wise, The Glutton is, at its core, a rich story of the lengths we will go to find belonging. A lyrical and propulsive reimagined historical rendering that will strike a deep cord with today's readers. Like nothing else I've ever read. Absolutely outstanding."—Chelsea Bieker, author of Heartbroke
"Can there be any human frailty beyond this author's understanding? The Glutton is an extraordinary accomplishment, a truly horrible and truly glorious novel. I devoured it. AK Blakemore's intelligence is tempered by a profound and merciful human compassion, and the tragic making and breaking of Tarare is going to be with me for quite some time. Heartbreaking."—Annie Garthwaite, author of Cecily
1798, France. Nuns move along the dark corridors of a Versailles hospital where the young Sister Perpetué has been tasked with sitting with the patient who must always be watched. The man, gaunt, with his sallow skin and distended belly, is dying: they say he ate a golden fork, and that it's killing him from the inside. But that's not all—he is rumored to have done monstrous things in his attempts to sate an insatiable appetite…an appetite they say tortures him still.

Born in an impoverished village to a widowed young mother, Tarare was once overflowing with quiet affection: for the Baby Jesus and the many Saints, for his mother, for the plants and little creatures in the woods and fields around their house. He spends his days alone, observing the delicate charms of the countryside. But his world is not a gentle one—and soon, life as he knew it is violently upended. Tarare is pitched down a chaotic path through revolutionary France, left to the mercy of strangers, and increasingly, bottomlessly, ravenous.

This exhilarating, disquieting novel paints a richly imagined life for The Great Tarare, The Glutton of Lyon in 18th-century France: a world of desire, hunger and poverty; hope, chaos and survival. As in her cult hit The Manningtree Witches, Blakemore showcases her stunning lyricism and deep compassion for characters pushed to the edge of society in The Glutton, her most unputdownable work yet.
---