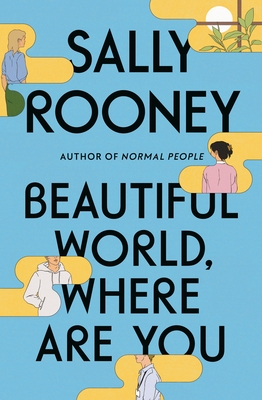 In association with her global launch event*, we are offering limited signed copies of Sally Rooney's forthcoming third novel.
This book will be signed, shipped and available for pickup upon its release, September 7th, 2021. All pre-orders will include a link to buy a ticket for the live streaming event September 7th, 2:30pm EST, at the reduced price of $9.
Beautiful World, Where Are You is a new novel by Sally Rooney, the bestselling author of Normal People and Conversations with Friends.

Alice, a novelist, meets Felix, who works in a warehouse, and asks him if he'd like to travel to Rome with her. In Dublin, her best friend, Eileen, is getting over a break-up, and slips back into flirting with Simon, a man she has known since childhood.

Alice, Felix, Eileen, and Simon are still young—but life is catching up with them. They desire each other, they delude each other, they get together, they break apart. They have sex, they worry about sex, they worry about their friendships and the world they live in. Are they standing in the last lighted room before the darkness, bearing witness to something? Will they find a way to believe in a beautiful world?
---
Sally Rooney is an Irish novelist. She is the author of Conversations with Friends and Normal People. She also contributed to the writing and production of the Hulu/BBC television adaptation of Normal People. Her work has appeared in The New Yorker, The New York Times, Granta and The London Review of Books. In 2019, she was named to the inaugural Time 100 Next list.
---
Praise for Conversations with Friends and Normal People:
"Sharp, funny, thought-provoking . . . a really great portrait of two young women as they're figuring out how to be adults."—Celeste Ng, "Late Night with Seth Meyers Podcast"

"The dialogue is superb, as are the insights about communicating in the age of electronic devices. Rooney has a magical ability to write scenes of such verisimilitude that even when little happens they're suspenseful."—Curtis Sittenfeld, The Week

"Rooney has the gift of imbuing everyday life with a sense of high stakes . . . a novel of delicious frictions."—New York

"A writer of rare confidence, with a lucid, exacting style . . . One wonderful aspect of Rooney's consistently wonderful novel is the fierce clarity with which she examines the self-delusion that so often festers alongside presumed self-knowledge. . . . But Rooney's natural power is as a psychological portraitist. She is acute and sophisticated about the workings of innocence; the protagonist of this novel about growing up has no idea just how much of it she has left to do."—Alexandra Schwartz, The New Yorker

"This book. This book. I read it in one day. I hear I'm not alone."—Sarah Jessica Parker (Instagram)
"Arguably the buzziest novel of the season, Sally Rooney's elegant sophomore effort . . . is a worthy successor to Conversations with Friends. Here, again, she unflinchingly explores class dynamics and young love with wit and nuance."—The Wall Street Journal

"[Rooney] has been hailed as the first great millennial novelist for her stories of love and late capitalism. . . . [She writes] some of the best dialogue I've read."—The New Yorker
*presented by the Southbank Centre, London