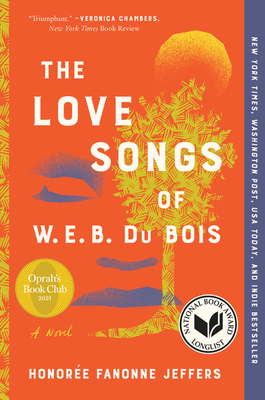 December 5th
7pm
McNally Jackson Downtown Brooklyn
The Literary Black Book Club will meet every month to discuss mostly contemporary fiction written most often by Black writers, primarily women. (We've reserved wiggle room to include a few other good books.) We'll also share a light snack, a glass of wine* and hopefully some laughs.
This month we'll be reading Honoree Fanonne Jeffers' The Love Songs of WEB DuBois, a magisterial epic, that chronicles the journey of one American family, from the centuries of the colonial slave trade through the Civil War to our own tumultuous era.
"Epic. . . . I was just enraptured by the lineage and the story of this modern African-American family. . . . I've never read anything quite like it. It just consumed me." —Oprah Winfrey
"This sweeping, brilliant and beautiful narrative is at once a love song to Black girlhood, family, history, joy, pain . . . and so much more. In Jeffers's deft hands, the story of race and love in America becomes the great American novel." — Jacqueline Woodson, author of Red at the Bone and Another Brooklyn
"From our earliest roots, African and Indigenous, to our present-day realities weighed down by inequity and injustice, Jeffers writes about all of us with such tenderness and deep knowing. Hers is the gorgeous prose one expects from a gifted, accomplished poet, masterful and stunning, as she explores both the bountiful resilience of Black folks and the insidious depravity wrought by white supremacy. These Love Songs make for a frank, feminist, and unforgettable read." — Deesha Philyaw, author of The Secret Lives of Church Ladies
The great scholar, W. E. B. Du Bois, once wrote about the Problem of race in America, and what he called "Double Consciousness," a sensitivity that every African American possesses in order to survive. Since childhood, Ailey Pearl Garfield has understood Du Bois's words all too well. Bearing the names of two formidable Black Americans—the revered choreographer Alvin Ailey and her great grandmother Pearl, the descendant of enslaved Georgians and tenant farmers—Ailey carries Du Bois's Problem on her shoulders.
Ailey is reared in the north in the City but spends summers in the small Georgia town of Chicasetta, where her mother's family has lived since their ancestors arrived from Africa in bondage. From an early age, Ailey fights a battle for belonging that's made all the more difficult by a hovering trauma, as well as the whispers of women—her mother, Belle, her sister, Lydia, and a maternal line reaching back two centuries—that urge Ailey to succeed in their stead.
To come to terms with her own identity, Ailey embarks on a journey through her family's past, uncovering the shocking tales of generations of ancestors—Indigenous, Black, and white—in the deep South. In doing so Ailey must learn to embrace her full heritage, a legacy of oppression and resistance, bondage and independence, cruelty and resilience that is the story—and the song—of America itself.
---