We will be presenting this event virtually, using Zoom. RSVP here.
Playwright Sarah Ruhl's first book of poetry, 44 Poems for You, offers poems that form a subtle, personal meditation on family, motherhood, and loss. With a finely tuned ear for language, Ruhl's poetry sings with a humbling honesty about what it means to share our lives with others and with those who form our hollows: a miscarriage, a close friend lost to cancer, and the sublimity of nature. She delves into womanhood through the physical reality of the everyday, and shows us life through her hands―making terrariums or jam with her husband, holding a child, grasping the counter as she bleeds. Succinct and contemplative, generous and wise, Sarah Ruhl―one of the greatest contemporary playwrights working today―addresses these poems to you.
"Passionate. Show-stopping. Daringly over-the-top and impressively consistent in its delirious excess." ― New Haven Advocate

"Ruhl has found the time to ask the right questions; it's up to us to make time to think about her ― and our ― answers." ―The New York Times

"Touching, inventive, invigoratingly compact, and luminously liquid..." ―San Francisco Chronicle

"Sarah Ruhl is her usual unfailingly elegant, unbeatably witty self, cleverly braiding her own brand-name wit with Woolf's." ―New York Magazine

"In bold, incisive strokes, she advocates for the creation of art that captures the "humor and the desperation of life," and for the observation that the tiniest details, in the hope that smallness can "wreak transformation at the most vulnerable, cellular level... in order to banish the goliath of loneliness."' ―Publishers Weekly
Sarah Ruhl is a playwright, essayist and poet. She is a MacArthur "genius" award recipient, two time Pulitzer prize finalist and a Tony award nominee. Her book of essays, 100 Essays I Don't Have Time to Write was published by FSG and named a Notable book by the New York Times. Her book Letters from Max, co-authored with Max Ritvo and published by Milkweed editions, was on the New Yorker's best poetry of the year list. Her plays include For Peter Pan on her 70th Birthday, How to Transcend a Happy Marriage, The Oldest Boy, Stage Kiss, Dear Elizabeth, In the Next Room, or the vibrator play, The Clean House, Passion Play, Dead Man's Cell Phone, Melancholy Play; Eurydice; Orlando, Late: a cowboy song, and a translation of Three Sisters. Her plays have been produced on and off-Broadway, around the country, and internationally, where they've been translated into over fifteen languages. Originally from Chicago, Ms. Ruhl received her M.F.A. from Brown University where she studied with Paula Vogel. She has received the Susan Smith Blackburn award, the Whiting award, the Lily Award, a PEN award for mid-career playwrights, the National Theater Conference's Person of the Year award, and the Steinberg Distinguished Playwright award. She lives in Brooklyn with her family.
---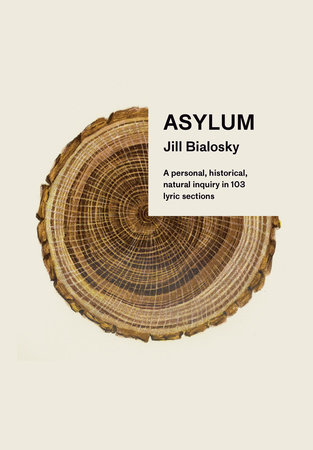 This book-length sequence by the critically acclaimed poet is a seeker's story, revealing personal and historical traumas and how we search for understanding and meaning in their wake.

In Asylum, poet Jill Bialosky embarks on a Virgilian journey, building a narrative sequence from 103 elegant poems and prose sections that cohere in their intensity and their need to explore darkness and sustenance both. Taken together, these piercing pieces--about her nascent calling as a writer; her sister's suicide and its still unfolding aftermath; the horror unleashed by World War II; the life cycle of the monarch butterfly; and the woods where she seeks asylum--form a moving story, powerfully braiding despair, survival, and hope. Bialosky considers the oppositions that govern us: our reason and unreason, our need to preserve and destruct. "What are words when they meet the action of what they attempt to modify?" she asks, exploring the possible salve of language in the face of pain and grief. What Asylum delivers is a form of hard-won grace and an awareness of the cost of extreme violence, inexplicable loss, and the miraculous cycles of life, in work that carries Bialosky's art to a new level of urgency and achievement.
"Reading Jill Bialosky's poems feels like taking a slow and lone journey into the depth of the human heart, yet all the while being accompanied and guided by an intimate voice. An urgent and expansive book, Asylum is a must-read for anyone who ponders over life and death and all that comes in between." —Yiyun Li

"Jill Bialosky's Asylum is a collection of terse forms and psalms that add up to a powerful, full-throated deliverance. Each trope captures life and death matters—a singing, a keening, within each taut, well-made release. Rather than craving a physical space, asylum is sought in language, metaphor, meditation, yoga, query, and hope. And one of the joys of reading this collection is to feel its poignancy through verbal accretion. Asylum is experimental and, at times, nearly classical, but always intently alive with lyrical truths." —Yusef Komunyakaa

"Bialosky's strongest collection to date. So compelling is her vision, so urgent her perceptions, that her grief becomes our grief, her world ours. We are with her on every step of a search that ends in art, and in a language that can save us." —Grace Schulman

"From personal story of a sister's suicide, to chants and whispers and lullabies assembled in a way as to create a book of days for this moment of terror and elegy, this book investigates into the ability of language to provide answers and comfort at the moment when there is no comfort to be found, and no answers: when all we can do is 'at the edge of the Hudson to watch the tugboats / & remind ourselves we live on an island of buildings. / The mayor warned us not to go out.' And yet, the poet insists—beautifully, gracefully, memorably—on seeking a sanctuary: 'asylum / in which the mind seeks / to keep itself from torture, asylum of thought / & afterthought, asylum / where birds mate & nourish.' Indeed. May we all find such asylum." —Ilya Kaminsky

"A refuge; from grief, and from threat of extinction. Bialosky weaves together the big cosmic time of trees and the natural world, with the detailed, apparently ordinary time of one woman's everyday life. The litany of memory, individual and collective, becomes fugue, becomes mantra. Whether you are a yoga lover, a tree lover, a mother, a reader, a sister, you will find something to love in this luminous collection." —Sarah Ruhl
Jill Bialosky is the author of four acclaimed collections of poetry, most recently The Players; three critically acclaimed novels, most recently, The Prize; a New York Times best-selling memoir, History of a Suicide: My Sister's Unfinished Life; and Poetry Will Save Your Life: A Memoir. Her poems and essays have appeared in Best American Poetry, The New Yorker, The Atlantic, Harper's Magazine, O, The Oprah Magazine, The Kenyon Review, Harvard Review, and The Paris Review, among others. She coedited, with Helen Schulman, the anthology Wanting a Child. She is executive editor and vice president at W. W. Norton & Company. Her work has been a finalist for the James Laughlin Prize, the Patterson Prize, and Books for a Better Life. In 2014, she was honored by the Poetry Society of America for her distinguished contribution to poetry. She lives in New York City.
Event date:
Tuesday, September 8, 2020 -

7:00pm

to

8:00pm

$16.00
ISBN: 9781556595844
Availability: Not On Our Shelves - Available to Order
Published: Copper Canyon Press - February 18th, 2020
---

$27.00
ISBN: 9780525657095
Availability: On Our Shelves
Published: Knopf - August 4th, 2020
---