Let's Play Yoga! is a playful, exuberantly illustrated book that introduces yoga to kids through stories and simple postures and techniques to foster a calm mind and healthy body. The book first introduces the ten principles of yoga, including non-violence, truth, energy, light, and more, and then describes how to apply this aspect to a child's daily life, and to their yoga practice. Next, the book invites children to play yoga through a creative story, with characters based on the Sanskrit names for yoga poses, followed by helpful, step-by-step illustrations detailing the character's corresponding poses.
Márcia De Luca has been studying and practicing yoga, meditation, and Ayurveda for over 35 years. She devotes herself to her chosen mission: to inspire people to find their wholeness, teaching them paths to integrate body, mind, and spirit. She studied with Deepak Chopra, Dr. David Frawley (Vamadeva Shastri) and several teachers in India. She advises companies and offers talks, workshops, and tailor-made courses.
Lúcia Barros holds two master's degrees, in sociology and in journalism, from the University of London and City University. Over twenty years ago, she started to study yoga and meditation with Márcia De Luca, and together they engaged in many projects. Lúcia conducts research on meditation and happiness, teaches mindfulness applied to education and innovation, and business and sustainability at universities in Brazil and England.
Lúcia and Márcia are founders of Bindu Escola de Valores, teaching mindfulness and values to children, teachers, parents, and institutions to help them find the best versions of themselves, and take part in building a world that is healthy, compassionate, and happy.
Buy the Book: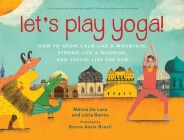 $14.95

ISBN: 9781615194933
Availability: On Our Shelves
Published: The Experiment - August 21st, 2018
---