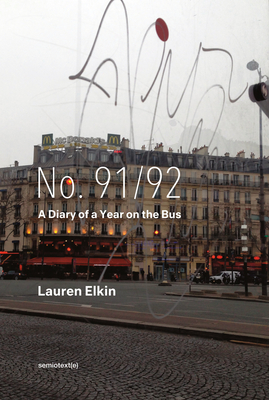 September 14th
5pm

A love letter to Paris and a meditation on how it has changed in two decades, evolving from the twentieth century into the twenty-first, from analog to digital.
Your telephone is precious. It may be envied. We recommend vigilance when using it in public.—Paris bus public notice
In fall 2014 Lauren Elkin began keeping a diary of her bus commutes in the Notes app on her iPhone 5c, writing down the interesting things and people she saw in a Perecquian homage to Bus Lines 91 and 92, which she took from her apartment in the 5th Arrondissement to her teaching job in the 7th.
Reading the notice, she decided to be vigilant when using her phone: she would carry out a public transport vigil, using it to take in the world around her and notice all the things she would miss if she continued using it the way she had been, the way everyone does--to surf the web, check social media, maintain her daily sense of self through digital interaction. Her goal became to observe the world through the screen of her phone, rather than using her phone to distract from the world.
During the course of that academic year, the Charlie Hebdo attacks occurred and Elkin had an ectopic pregnancy, requiring emergency surgery. At that point, her diary of dailiness became a study of the counterpoint between the everyday and the Event, mediated through early twenty-first century technology, and observed from the height of a bus seat. No. 91/92 is a love letter to Paris, and a meditation on how it has changed in the two decades the author has lived there, evolving from the twentieth century into the twenty-first, from analog to digital..
---
Lauren Elkin is the author of Flâneuse: Women Walk the City (2016), a New York Times Notable Book and a finalist for the PEN/Diamonstein-Spielvogel award for the Art of the Essay, and The End of Oulipo?: An Attempt to Exhaust a Movement (with Veronica Esposito, 2013). She is also an award-winning translator, most recently of Simone de Beauvoir's lost novel The Inseparables (Vintage Classics, 2021). After twenty years in Paris, she now lives in London.
Moyra Davey is a New York-based artist whose work comprises the fields of photography, film and writing. She is the author of Index Cards, Burn the Diaries, The Problem of Reading, and editor of Mother Reader: Essential Writings on Motherhood. The Shabbiness of Beauty, a book of photographs by Peter Hujar and Davey, with a text by Eileen Myles was published in 2021. Davey's work is held in major public collections, including the Museum of Modern Art and the Metropolitan Museum of Art in New York, and Tate Modern in London. She is a 2020 recipient of the John S. Guggenheim Memorial Foundation Fellowship.
Buy the Book:

$14.95

ISBN: 9781635901535
Availability: On Our Shelves
Published: Semiotext(e) - September 14th, 2021
---