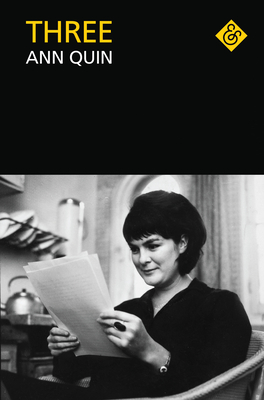 Join us for a virtual meeting of McNally Jackson's International Literature Book Club on Monday, Feb. 8th, at 7 p.m., to discuss Three by experimental British author Ann Quin. Hosted by Yvonne Brooks.
Sign in to this zoom meeting on Feb. 8th here:
https://us02web.zoom.us/j/89683900948?pwd=dXVwUVY1VzVhdGNTS3A0bno4QWphdz09.
About Three:
S has disappeared from Ruth and Leonard's home in Brighton. Suicide is suspected. The couple, who had been spying on their young lodger since before the trouble, begin to pour over her diary, her audio recordings and her movies - only to discover that she had been spying on them with even greater intensity. As this disturbing, highly charged act of reciprocal voyeurism comes to light, and as the couple's fascination with S comes to dominate their already flawed marriage, what emerges is an unnerving and absorbing portrait of the taboos, emotional and sexual, that broke behind the closed doors of 1950s British life.
About the Author
---
Ann Quin (1936-1973) was a working-class writer from Brighton, England. She was at the forefront of British experimentalism in the 1960s along with BS Johnson and Alan Burns. Prior to her death in 1973, she published four novels: Berg (1964), Three (1966), Passages (1969) and Tripticks (1972). A collection of short stories and fragments, The Unmapped Country (edited by Jennifer Hodgson), was published by And Other Stories in 2018. Quin's novel Berg was republished by And Other Stories in 2019, followed by Three in 2020.
Event date:
Monday, February 8, 2021 - 7:00pm