One of Mexico's most admired poets and a former UNESCO ambassador, Homero Aridjis has just released a new collection of poetry, A Time of Angels, in a bilingual edition with translations by George McWhirter and illustrations by the Mexican artist, Francisco Toledo. Aridjis' angels may not have fallen but the world has, and they move among gritty realities -- red light districts, heat waves, and drinking dens -- in silent hope.  "Homero Aridjis's poems open a door into the light." - Seamus HeaneyAridjis has received two Guggenheim Fellowships and numerous awards, including the Global 500 Award from the United Nations Environment Program on behalf of the environmental association he founded, the Group of 100, in 1987, and the Prix Roger Caillois from France for poetry and fiction in 1997. President Emeritus of International PEN and former Ambassador to the Netherlands and Switzerland, Aridjis was until recently Mexico's Ambassador to UNESCO. A prolific author, Aridjis published Poemas solares (Solar Poems) in 2005.  
Event date:
Thursday, June 6, 2013 - 7:00pm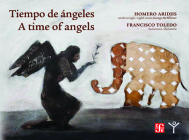 Unavailable, our apologies.
ISBN: 9780872865648
Availability: Special order, subject to availability. Arrives in our store in 10+ days if available
Published: City Lights Books - October 30th, 2012
---

$18.95
ISBN: 9780872865044
Availability: On Our Shelves Now
Published: City Lights Publishers - City Lights Publishe - March 2010
---