Out of Africa (Paperback)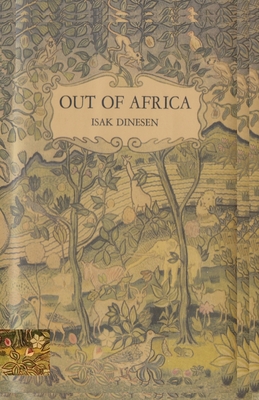 Unavailable, our apologies.
Sorry, We Can Not Obtain this Book at This Time
Description
---
Out of Africa is Isak Dinesen's memoir of her years in Africa, from 1914 to 1931, on a four thousand acre coffee plantation in the hills near Nairobi. She had come to Kenya from Denmark with her husband, and when they separated she stayed on to manage the farm by herself.
After her husband left, Karen Blixen was visited frequently by her lover, the big game hunter Denys Finch-Hatton, for whom she would make up stories like "Scheherazade". In Africa, "I learned how to tell tall tales," she recalled many years later. "The natives have an ear still. I told stories constantly to them all kinds," she recalled many years later.
Her account of her African adventures, written after she lost her beloved farm and returned to Denmark, is that of a master story-teller, a woman whom John Updike called one of the most picturesque and flamboyant literary personalities of the century."
Isak Dinesen (1885-1962) was born Karen Christian Dinesen in Rungsted Denmark. She wrote poems, plays and stories from an early age, including Seven Gothic Tales, Shadows on the Grass, and Babette's Feast.
There are similarities between her story and the book and movie "Elephant Walk" starring Elizabeth Taylor. It seems to be the same story, only the country and the animals, the elephants, are different.
Karen Blixen moved to British East Africa in late 1913, at the age of 28, to marry her second cousin, the Swedish Baron Bror von Blixen-Finecke, and make a life in the British colony known today as Kenya. The young Baron and Baroness bought farmland below the Ngong Hills about ten miles (16 km) southwest of Nairobi, which at the time was still shaking off its rough origins as a supply depot on the Uganda Railway.
The Blixens had planned to raise dairy cattle, but Bror developed their farm as a coffee plantation instead. It was managed by Europeans, including, at the start, Karen's brother Thomas - but most of the labour was provided by "squatters." This was the colonial term for local Kikuyu tribespeople who guaranteed the owners 180 days of labour in exchange for wages and the right to live and farm on the uncultivated lands which, in many cases, had simply been theirs before the British arrived and stole them.
When the First World War drove coffee prices up, the Blixen family invested in the business, and in 1917 Karen and Bror expanded their holdings to six thousand acres (24 km ). The new acquisitions included the site of the house which features so prominently in Out of Africa.
The Blixens' marriage started well - Karen and Bror went on hunting safaris which Karen later remembered as paradisiacal. But it was not ultimately successful: Bror, a talented hunter and a well liked companion, was an unfaithful husband and a poor businessman who squandered much of the money to be invested in the farm. In 1921 the couple separated, and in 1925 they were divorced; Karen took over the management of the farm on her own.