Japanese Myths, Legends & Folktales: Bilingual English and Japanese Edition (Hardcover)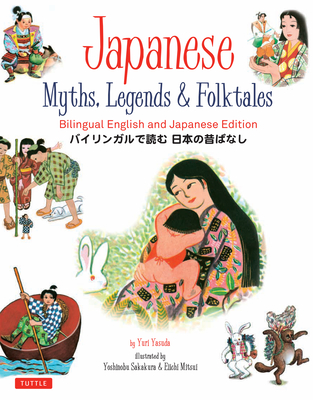 Description
---
Here, beautifully illustrated and presented in both English and Japanese, are 12 of the best Japanese folktales--shared with generation after generation of Japanese children. These charming tales engage your imagination as you're carried on turtle-back rides, brought to the underwater palace of the dragon princess, and discover a temple with a tea kettle that is really a cunning badger in disguise.
Stories include:
The Tongue-Cut Sparrow
The Strong Boy
The Marriage of a Mouse
The Fisherman and the Tortoise
The Luminous Princess
The Peach Boy
The Kachi Kachi Mountain
The Old Men With Wens
The Old Man Who Made Trees Blossom
The One-Inch Boy
The Lucky Cauldron
The Monkey and Crab Fight
These stories are all richly illustrated, with 98 color illustrations by two of Japan's foremost children's books illustrators. Executed with great skill and imagination, they bring to life the charming characters of these heartwarming tales of old Japan. The tales were originally written in English by author Yuri Yasuda based on her interpretations of traditional Japanese stories. Here they are fully bilingual--each one accompanied by Japanese text. The Japanese versions of each tale include simple kanji with
furigana
pronunciations to help learners recognize the characters.
Japanese Myths, Legends & Folktales
is accessible to both English and Japanese-speaking children, as well as to older language learners who wish to enhance their reading ability. This multicultural children's book will entertain, inspire, and educate in equal measure.
About the Author
---
Yuri Yasuda is a graduate of the English Department, International School of the Sacred Heart, Tokyo. Since childhood she has written stories for her own amusement, and she began to tell folk and fairy tales to her two sons and two daughters as soon as they were able to understand the words. In the midst of a busy family life, she finds time to write as well as take part in the civic life of her community.