Under the Bridge (Paperback)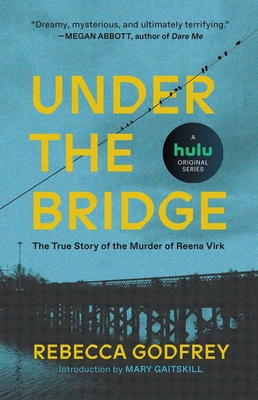 Staff Reviews
---
A beautiful piece of literary crime reporting, Under The Bridge is one of the best true crime books I have ever encoutered. Begun when Godrey was twenty-seven and still finishing her first novel, Under the Bridge tells the story of a murder that took place in the Canadian island town of Victoria during the autumn of 1997. Reena Virk, a fourteen year old girl, was beaten to death by a group of her peers under a bridge, and then drowned by two of the teenagers in the water. All but one of those involved were girls. A stunning narrative touching on the violence of young women, this book was before its time, and this reissue is well overdue.
— Madeleine
Under the Bridge reads like a high school yearbook, and feels as familiar and horrifying as flipping through your own. Sure, kids can be killers; but as the crime and consequences are slowly revealed, Godfrey never lets you forget they're still kids. Among the best literary true crime there is.
— Bekah
Description
---
"A swift, harrowing classic perfect for these unnerving times." —Jenny Offill, author of Dept. of Speculation

One moonlit night, fourteen-year-old Reena Virk went to join friends at a party and never returned home.

In this "tour de force of crime reportage" (Kirkus Reviews), acclaimed author Rebecca Godfrey takes us into the hidden world of the seven teenage girls—and boy—accused of a savage murder. As she follows the investigation and trials, Godfrey reveals the startling truth about the unlikely killers. Laced with lyricism and insight, Under the Bridge is an unforgettable look at a haunting modern tragedy.
About the Author
---
Rebecca Godfrey is an award-winning novelist and journalist. Her first novel, The Torn Skirt, was a national bestseller and a finalist for the Ethel Wilson Fiction Prize. Under The Bridge received one of Canada's largest literary awards, the British Columbia Award for Canadian Nonfiction, as well as the Arthur Ellis Award for Excellence in Crime Writing. She holds an MFA from Sarah Lawrence College, and has received fellowships from Yaddo and The MacDowell Colony. In 2016, she edited and curated the multimedia exhibition, Girls In Trees. She teaches writing at Columbia University, and lives with her family in upstate New York.
Praise For…
---
"Dreamy, mysterious and ultimately terrifying…. It does something to you."
– Megan Abbott, author of Dare Me

A brilliant, compassionate retelling of a horrific murder." —O, the Oprah Magazine

"Intelligent . . . insightful . . . will be remembered for years." —Sarah Weinman, author of The Real Lolita

"Both tragic and cathartic." —The New York Times

"Lipstick, platform shoes, and braces have never felt more menacing. The book reads like a breezy bestseller, but it's Godfrey's in-depth reporting that gets under your skin." —GQ

"A modern day Crime and Punishment that keeps you on the edge of your seat. A stunning book that manages to terrify and enlighten at the same time. I reread it on a regular basis to remind myself what the best, most empathetic crime journalist can be like." —Gary Shteyngart, author of Lake Success

"In this groundbreaking book, Rebecca Godfrey writes with insight and compassion about a startling teens-on-teen crime that prefigures Parkland, Columbine, and Slenderman. She unspools a story that feels only too relevant today — an outsider yearning to fit in, a Queen Bee holding onto her crown, and an unfortunate misfit in the wrong place at the wrong time. A revelation for any lover of teen crime..."
— Stephanie Savage, Co-Creator, Gossip Girl, Marvel's Runaways

"Godfrey, who mixes novelistic suspense with a journalist's key eye for detail, does a terrific job of presenting the facts and letting readers decide how to judge the accused."
– Bustle

"A tour-de-force of true crime reportage. Godfrey reconstructs a horrific murder with a vividness found in the finest fiction, without ever sacrificing journalistic integrity."
– Kirkus Reviews (starred review)

"Both tragic and cathartic."
– The New York Times

"Godfrey skillfully blends hard-nosed journalism with a literary lyricism that far and away transcends that of her true-crime colleagues."
– Elle.com

"Offers an insightful perspective into the challenging, disturbing pressures of adolescent life in the 21st century. A must-read for parents and educators."
– The Daily News

"An intelligent, insightful book that will be remembered for years."
– The Baltimore Sun

"Will keep anybody with a brain and a heart reading into the night."
– Knoxville News-Sentinel (TN)

"Hypnotic, obsessive, wonderfully transformative."
– John Guare, author of Six Degrees of Separation

"Under the Bridge is a fine piece of reportage and a shocking rendering of the tragic end of one young life and the dark and sinister beginnings of others. Godfrey writes with stinging insight and an urgency that moves the story from teenage hush and whisper to the reality of the coroner's office and sad, fatigued cops. The prin­cipals are all victims–of schools and communities and families that don't care–and perpetrators–harming one another and themselves in this startling fall from innocence."
– Anthony Swofford, author of Jarhead

"A skilled and emotionally compelling investigation into the dark heart of adolescent society, both in isolation and in the context of our culture. Godfrey . . . combines a storyteller's skills with a journalist's keen eye for detail to create a complex interwoven narrative of the events that is at once intimate and detached… A keen-edged and heart-rending account."
– The National Post (Canada)

"Godfrey's portraits are complex and unsentimental… A homicide is best told as a story, and this marvelous book makes this very clear."
– The Globe and Mail (Canada)

"Easily one of the most harrowing non-fiction books of the year… Godfrey cannily shifts perspectives, which allows for insights not only into the legalities of the case but also into the minds of the teens involved. This is a dark ride."
– The Vancouver Sun (British Columbia)

"Haunting… phenomenal cinematic raw material."
– The Hollywood Reporter

"Under the Bridge is a prodigiously researched and care­fully observed account of a senseless murder and its aftermath. Rebecca Godfrey brings a sympathetic imag­ination and a finely tuned ear for language to bear on a dark subject, with spectacular results."
– Evan Cornog, publisher, Columbia Journalism Review