Irrational Music (Paperback)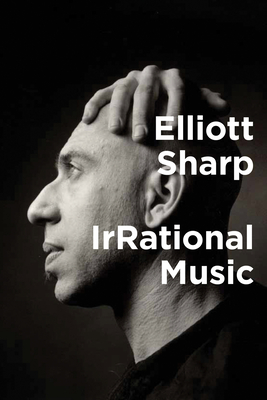 Staff Reviews
---
Composer and multi-instrumentalist Elliott Sharp is the Kevin Bacon of American avant-garde music; traversing his CV, one can connect Howlin' Wolf's acicular accompanist Hubert Sumlin to ambient forerunners such as composer Morton Feldman, among any number of other creative constellations. This is to say nothing of Sharp's own monumental body of work, nor the detail and generosity with which he narrates the circumstances of its creation.
— Cam
Description
---
A memoir and manifesto by a pivotal figure at the junction of rock, the avant-garde, and an ever-widening spiral of art, theater, film, and dance.
For over five decades, Elliott Sharp has been engaged in a quest at once quixotic and down to earth: to take the music he hears in his inner ear and bring it to life in the real world. In this vivid memoir and manifesto, Sharp takes us along on that quest, through some of the most rugged, anarchically fertile cultural terrain of our time. Sharp, a mainstay of the New York Downtown scene beginning in the 1980s, has been a pivotal figure at the junction of rock, experimental music, and an ever-widening spiral of art, theater, film, and dance. Rooted in blues, rock, jazz, and the twentieth-century avant-garde, Sharp's innovative music has encompassed fractal geometry, chaos theory, algorithms, genetic metaphors, and new strategies for graphic notation.
In IrRational Music, Sharp dodges fake cowboys' real bullets by the side of a highway near Colby, Kansas; is called on the carpet by a prickly, pompadoured Morton Feldman ("Improvisation... I don't buy it"); segues from Zen tea to single malt with an elfin John Cage; conjures an extraterrestrial opera from a group of high-school students in Munich; and--back in his own high-school days--looks up from strumming Van Morrison's "Gloria" in Manny's Music on 48th Street to see Jimi Hendrix smiling benignly upon him. A mix of tales from the road with thoughts on music, art, politics, technology, and the process of thinking itself, IrRational Music is a glimpse inside the mind of one of our most exacting, exciting creative artists.