The Mother Road / Route 66: ザ・マザーロード/ルート66 (Paperback)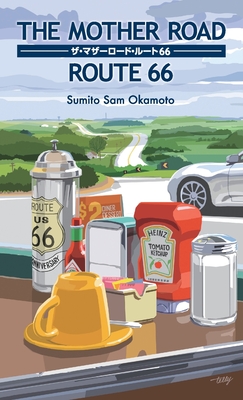 $23.95
Not On Our Shelves - Available to Order
Description
---
中年と言われる歳も過ぎ、引退が見え始めた頃に男は何を思うのか。モノに溢れ、豪華で洒落た食事と煌びやかな都会の生活に飽和した男の心は渇いた荒野を欲していた。しかし、荒野に立ってみれば、欲しかったのは飽食の生活を補う風景でもなければ、砂漠を突っ走るステアリングの感触でもなかった。男は人に出会い、人の人生に巻き込まれ、人と運命を共にすることで、荒野ではなく、自分の中に大きく広がった原風景を見つける。そしていつしか見失っていたその景色の中で、忘れかけていた自分を見つけ共に歩き始める。そして男と出会った青年たちもまたそぞれの原風景を見つけ、その道を歩み出す。彼らのそれぞれのマザーロード、ルート66に向かって...。
500ページを超える超大作。アメリカの広さと多様さを大地を走ることで痛感し、その一日一日の経験が凝り固まった心をほぐし、新しい自分を見つけていく。それは新しくもしかし、それが本来の自分であるのだということを発見させてくれる一冊です。
What does a man ponder when he begins to think about retirement after so-called middle age? A man, who is fed up with luxurious city life with full of things and fancy food, craves dry wilderness. However, when he stands in the wilderness, he realizes that what he really wants is neither a sight to get rid of the feeling of satiation nor a feeling of steering through the desert.
What he finds is not the wilderness, but the widely spread landscape inside him by meeting people, involving others, and sharing the fate with others.
In the landscape, he finds himself that was almost forgotten. Then he starts walking.
Young men who he meets also find their own landscapes and start walking, toward their mother road Route 66.
This is an epic work with more than 500 pages. Readers will realize America's grandeur and diversity as the main character drives through the land. As his experiences of each day unfold, you can loosen your hearts and find your new life possibilities. This book makes you discover your new self yet true self.