Dying: A Memoir (Hardcover)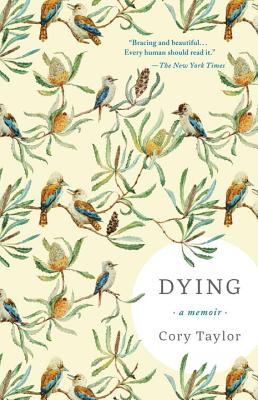 Staff Reviews
---
Taylor began writing this book as she was extremely ill with melanoma, suspecting that it would be the last book she would write. It was. She passed away shortly before Dying was published in 2016, and it is one of the most astonishing books you will ever read. Clear-eyed, unsentimental, incredibly wise, Dying is not really about death at all. Or, it is, but it's about the ways that death is no real tragedy - we are all bodies, we are all yoked to the passage of time, we will all pass from life and our consciousness cease, but we are not so very different from the birds and the leaves and the light, all of us permeable to the world. 
— Madeleine
Description
---
"Bracing and beautiful . . . Every human should read it." —The New York Times


A New York Times Book Review Editors' Choice and 2017 Critics' Pick

One of Barack Obama's Favorite Books of 2017
At the age of sixty, Cory Taylor is dying of melanoma-related brain cancer. Her illness is no longer treatable: she now weighs less than her neighbor's retriever. As her body weakens, she describes the experience—the vulnerability and strength, the courage and humility, the anger and acceptance—of knowing she will soon die.
Written in the space of a few weeks, in a tremendous creative surge, this powerful and beautiful memoir is a clear-eyed account of what dying teaches: Taylor describes the tangle of her feelings, remembers the lives and deaths of her parents, and examines why she would like to be able to choose the circumstances of her death.
Taylor's last words offer a vocabulary for readers to speak about the most difficult thing any of us will face. And while Dying: A Memoir is a deeply affecting meditation on death, it is also a funny and wise tribute to life.
About the Author
---
Cory Taylor was an award-winning novelist and screenwriter who also published short fiction and children's books. Her first novel, Me and Mr. Booker, won the Commonwealth Writers' Prize (Pacific Region) in 2012 and her second novel, My Beautiful Enemy, was shortlisted for the Miles Franklin Award in 2014. She died on July 5, 2016, shortly after Dying: A Memoir was published in Australia.
Praise For…
---
Dying is bracing and beautiful, possessed of an extraordinary intellectual and moral rigor. Every medical student should read it. Every human should read it. 

— Jennifer Senior, The New York Times

An eloquent plea for a more humane approach to death and a moving meditation on the life that leads to that end. . . . There is an ever expanding body of literature on coming to terms with mortality, and this entry ranks with the best.

— Kirkus, Starred Review

Honest, powerful, and moving . . . A deeply personal conversation about the alchemy of death, this brave memoir reveals the intimacy of the act, where 'we're like the last survivors on a sinking ship, huddled together for warmth.'
— Oprah.com

This slender volume brings a fresh point of view to end-of-life care, the concept of having a sense of control over the unknown, and the role of chance in life. This deep meditation is beautifully written and destined to be an important piece of the conversation surrounding death. Taylor's last testament to life is a welcome departing gift from a thoughtful and inspired author.
— Publishers Weekly, Starred Review

An electrifying book about dying that's part dreamy reminiscence, part philosophical monograph. The author, reckoning with Stage 4 melanoma, demystifies the final experience of our lives, exploring questions of control, fear and regret. My copy is underlined like a composition notebook. 'For what are we,' Taylor asks, 'if not a body taking a mind for a walk, just to see what's there?'
— The New York Times Book Review, Critics' Pick

If a more open discussion of death is needed in the West, Taylor's book is a manual for the task. It is full of wisdom and vulnerability; it is also profoundly reassuring. Dying, she repeatedly says, is deeply lonely. No one can do it with you. But this book might be a companion, made all the more solid by its lack of sentimentality and any other false comforts.
— Times Literary Supplement

Dying is a powerful, passionate, unflinching memoir about facing death and the choices and difficulty and beauty that entails. It should be required reading for all of us.

— Ann Hood

This small, powerful book offers a clean
engagement with life's conclusion: with clarity and courage, the author finds
words to escort us towards silence.
— Hilary Mantel

Cory Taylor's book is both a precise and moving
memoir about the randomness of family, and an admirable intellectual response
to the randomness of life and death. We should all hope for as vivid a
looking-back, and as cogent a looking-forward, when we reach the end ourselves.
— Julian Barnes

This is a powerful, poignant and lucid last
testament, at once an eloquent plea for autonomy in death, and an evocation of
the joys, sorrows, and sheer unpredictability and precariousness of life. It's
a fine contribution to our much-needed dialogue with death.
— Margaret Drabble