Kuma-Kuma Chan, the Little Bear (Hardcover)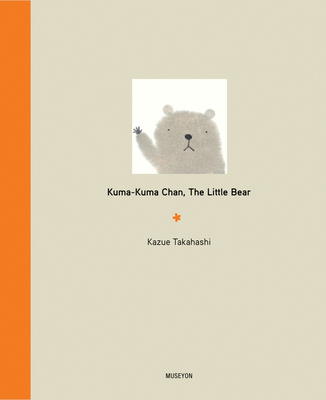 $12.99
On Our Shelves Now - Available to Ship to Your Home
Staff Reviews
---
For an adorable little bear, Kuma-Kuma Chan possesses an interiority that is completely inacessible to us.
— Matt
Description
---
This lovingly rendered, meditative book on friendship is sure to find a permanent place on the bedside table
With sparse text and a deceptively simple, beautiful design, Japanese author/illustrator Kazue Takahashi brings to life the world of Kuma-Kuma Chan, which loosely translates from the Japanese as "cute little bear." Making its first appearance in English, this charming book for preschoolers and readers of all ages poses the question, "How might my friend, a solitary bear, choose to spend his days?" The soft, almost dreamlike illustrations are accompanied by single sentences making it easy for emerging readers to follow along. Daily chores and seasonal activities become infused with special meaning when they are performed by this adorable creature. Kuma-Kuma Chan goes about his days in contented solitude, engaged in activities such as eating breakfast, gazing at clouds, listening to the rain, writing letters, and wondering where to go with his new bag. At night he watches the sky darken and brushes his teeth before bed. He gardens in the spring, trims his hair in summer, composes a love song in the fall, and seeks a warm, sunny spot on the floor in the winter. Children and adults alike will take delight in repeating aloud the name of their new, steadfast storybook friend and look forward to spending more time in his imagined world.
About the Author
---
Kazue Takahashi is an illustrator and a children's book author.
Praise For…
---
"This is the antidote for your overscheduled, hurried and harried child. The narrator imagines that the bear does such strenuous activities as daydreaming, taking a nap, gazing at his nail clippings, listening to the rain, and writing a long letter to a friend. (I love how Takahashi specifies that is it long.) See? We all, children included, need days like this, and the very young readers for which this story is geared—it'd be great for emerging readers, in particular—will get the joy of such activities." —Julie Danielson, Kirkus Reviews
"The simplicity of the storyline and illustrations makes it easy for young readers, and also invites parents and children to dive deeper and create their own dialogue and inquisitions." —Heather Wilson Tomoyasu, JQ magazine
"Takahashi's illustrations complement the calm and contemplative narrative and the cuddly Kuma-Kuma Chan. Using a kid-friendly design, Takahashi frees the double page spreads from distractions and accentuates the picture book's simplicity by focusing children's attention on one simple and easy-to-read sentence opposite a tiny, sparingly colored illustration. A tender and soothing story for our jammed packed lives and especially appropriate around the frantic 'holidaze.' Use this story as a discussion starter on how we could live and benefit from, at least periodically, a less complicated life like Kuma-Kuma Chan's." —Dornel Cerro, goodreadswithronna.com
"The illustrations are soft and childlike, beautifully mirroring the quiet, meditative tone of the book. With shelves of loud, intentionally ironic children's books trying mightily to attain cross-generational appeal, it's wonderful to read a book that is genuinely sweet and gentle – aimed specifically at young children." —Donna McKinnon, 32pages.ca
"Originally written for children ages 3 to 5, Takahashi's adorable illustrations will surely capture kids' hearts, but they appeal to people all ages, parents and collectors of illustrated books." —chopsticksny.com
"The simple sentences are also great for my 5 year old who is learning to read and would likely make a good star book for kindergarten reading programs. But, my kids just love the peacefulness of this book and the cute bear came alive to them in a meaningful way." —Natasha Gross, littlebabebigcity.com
"I'm also incredibly fond of the book's quality. Uncoated paper – need I say more? And the die-cut on the dust jacket has yet to not delight us all. Be sure to peek underneath and see the book's cute hardcover illustration. Whenever I need a reminder to just enjoy every moment and seemingly mundane task in my day, Kuma-Kuma Chan waves to me from the die-cut, beckoning me to dance to the radio or watch the sky become fully dark." —Caryn Schafer, threebooksanight.com
"Just now in New York, I bought a fantastic little book, Kuma-Kuma Chan, The Little Bear, by Kazue Takahashi. Amazing what illustration can do. Hard to explain why I find this so moving. These incredibly simple little drawings are alive. The bear has a soul. You open the book and look into a small but totally convincing world. Lovely." —Lisbeth Zwerger and Julie Danielson, Kirkus Reviews
"The simplistically charming text and illustrations evoke a meditative feeling of the story." —Emma Abler, Omni Libros
"Its simplicity and charm pull in the reader. Completing Kum-Kum Chan's day in bed, it makes a quiet bedtime story." —Susan Roberts, Books for the Curious Child 

"The best books for kids of all ages Kuma-Kuma Chan is a bear who lives a quiet and contemplative life in a small house in the mountains. He's a mindful animal, who takes care when he makes a salad, and stops to think about the sound of the rain on the roof. Much of the charm of this calming book comes from the elegantly simple illustrations." —Oliver Strand, Time Out New York Kids