The People Reloaded: The Green Movement and the Struggle for Iran's Future (Paperback)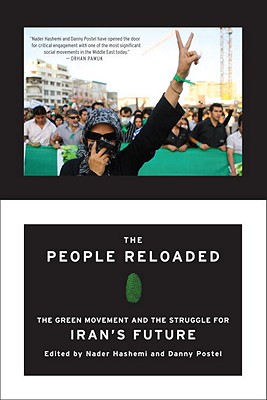 Unavailable, our apologies.
Description
---
A definitive collection of essays and documents on the movement behind Iran's mass protests

Since June of 2009, the Islamic Republic of Iran has seen the most dramatic political upheaval in its three decades of rule. What began as a series of mass protests over the official results of a presidential election—engendering the slogan "Where is My Vote?"—has grown into something much larger, indeed the largest political protest since the 1979 revolution.

The Green Movement has been described as "an Iranian intifada," a "great emancipatory event," a "grassroots civil rights movement a century in the making," and "something quite extraordinary, perhaps even a social revolution." What are the movement's aims—are they revolutionary, reformist, or something else altogether? Does it have a chance of fundamentally changing Iranian politics or removing president Mahmoud Ahmadinejad from office?

This momentous anthology explores these critical questions and others by assembling the key statements, communiqués, manifestos, interviews, and debates to have emerged from this vibrant social movement—many of which are translated and published here for the first time. This indispensable volume is the first to bring together the leading voices and key players in Iran's Green Movement, providing an intellectual and political road map to this turning point in Iran's history and a vital resource for the study of Iran, social movements, and the future of the Middle East.
About the Author
---
Nader Hashemi teaches Middle East and Islamic politics at the Josef Korbel School of International Studies at the University of Denver. He is the author of Islam, Secularism and Liberal Democracy: Toward a Democratic Theory for Muslim Societies.

Danny Postel is the author of Reading "Legitimation Crisis" in Tehran: Iran and the Future of Liberalism.
Praise For…
---
"Hashemi and Postel offer a rich, consistently engaging anthology that makes an important effort to provide 'an intellectual and political roadmap' to understanding Iran's tumultuous 2009 presidential election...the facts, analysis, shading, and nuance these pieces provide will allow the reader to better understand whatever direction Iran may take in the future."
—Publishers Weekly

"In bringing together these essential texts from and about Iran's Green movement, Nader Hashemi and Danny Postel have opened the door for critical engagement with one of the most significant movements in the Middle East today."
—Orhan Pamuk, 2006 Nobel Laureate in Literature

"The editors of this collection have put together an extraordinary resource to help further the development of democracy and social justice in Iran. It brings together vital contributions to the debate about Iran's future and invites all those concerned with this future to become active participants in its definition."
—David Held, London School of Economics & Political Scicence

"This anthology illuminates the ethical demands at the core of Iran's Green Movement, one of the most vibrant and promising social forces on the global horizon. The People Reloaded plunges is into a defining conflict of modern political history: how nonviolent democratic resistance might succeed in the face of a repressive regime. Defeat often seems inevitable and change never seems to come fast enough. And then, all of a sudden, the dam bursts, time accelerates and nothing can stop it. This welcome volume provides an anatomy of how this process is unfolding in Iran today, whatever its eventual outcome."
—Simon Critchley, New School for Social Research

"Words, yes, words and justice and bodies--that's all the Iranian human earthquake called the Green Movement has had on its side from the start of is peaceful insurrection. The bodies have been beaten and jailed and persecuted and the justice is a long time coming, but the words, the indispensable words that have always been at the heart of that country's history, the words are finally available in one crucial and moving and thought-provoking book. Here is proof--as if Gandhi needed proof, as if King needed proof--that the people of Iran will prevail."
—Ariel Dorfman, playwright and author

"The People Reloaded: The Green Movement and the Struggle for Iran's Future includes very insightful, informative, and original brief analyses by outstanding Iran specialists such as Asef Bayat, Ervand Abrahamian, Fred Halliday, Reza Aslan, Juan Cole, and Robin Wright. Readers may take their pick among numerous readable articles from inside and outside Iran and find new and varied views that shed much light on the genesis, development, and future of this important movement."
—Nikki Keddie, Author of Modern Iran: Roots and Results of Revolution