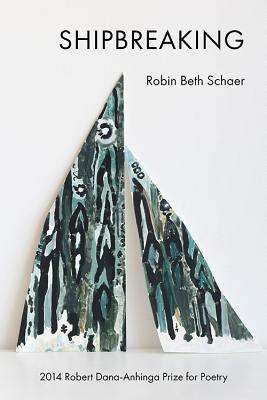 Unavailable, our apologies.
Sorry, We Can Not Obtain this Book at This Time
Description
---
Poetry. SHIPBREAKING is a stunning book about being awake. Robin Beth Schaer spins her readers through the wires, storms, and electricity between us with great precision of language and line. This is the voice of an explorer, a speaker of wild courage. 'Love / is haywire, ' she says, 'Current is the cure / for both a stopped heart and one that beats / too much.' Brimming with recognition of conditions both human and otherworldly, Schaer speaks as guide and messenger, creating a '... spark ... in a great loneliness.' This is a moving, necessary book." Jan Beatty.
Praise For…
---
"Brilliant and Highbrow" --New York Magazine

"Some poets play the spoons, but Schaer plays the knives. Her words are not so much written as carved, her lines not so much offerings as incisions ... Schaer has given us the world in this debut: the sea and the sky and the many islands of desire spread between them. She has plumbed our dual human yearnings for escape and return, love as liberation and love as captivity. In her lexical and historical wanderlust, she has grappled with what it means to name and what it means to leave unnamed." --The Rumpus

"Shipbreaking is a book about being saved while recognizing loss ... If we trust our poets enough, we allow them to cause wounds and then apply the salves." --The Millions, Most Anticipated: Great Second-Half 2015 Book Preview

"Shipbreaking is a stunning book about being awake. Robin Beth Schaer spins her readers through the wires, storms, and electricity between us -- with great precision of language and line. This is the voice of an explorer, a speaker of wild courage. Brimming with recognition of conditions both human and otherworldly, Schaer speaks as guide and messenger. This is a moving, necessary book." --Jan Beatty

"Schaer toggles between the cosmic and the intimate, brilliantly weaving a tapestry of gorgeous, sometimes painful, interconnectedness. Schaer is alert both to the rawness of the elements and the work of human hands. Her poetry charts a natural history which includes us, but not only us. The child unfurling in the womb, the city flooded in storm, the ship lost at sea: Schaer registers all with a striking combination of gorgeous gaud and stark specificity." --Maureen McLane

"Shipbreaking's ultra-taut lines urge departure, a kind of experiential upsweep. And they keen just as convincingly toward the steady grounding of land, home and the embrace of the beloved as they do toward the wind-racked surface and unknowable depths of the sea--constants in Schaer's mythology, which foster 'that skyward longing, to be untethered.'" --Tracy K. Smith

"'Love is haywire', Robin Beth Schaer writes in one of her passionate lyrics; 'love for my consort', 'my lovely undoing', and for the seagoing vessels that haunt these lines, and for a young son whose future depends on the fate of another beloved, this world in which 'under the city' / 'aquifer fills with seawater' / 'slowly drawing the avenues down'. Schaer's language and her passion operate under the increasingly inescapable pressure of limit, and the result is something beautiful and broken, like this moment." --Mark Doty