Hygiene and the Assassin (Paperback)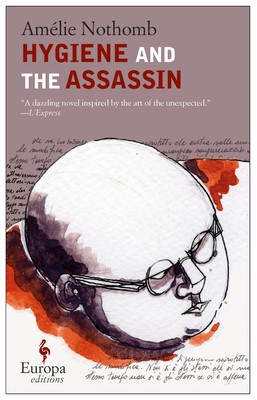 Unavailable, our apologies.
December 2010 Indie Next List
---
"In this debut novel, originally published in 1992, a Nobel Laureate novelist spars with several journalists he has agreed to meet upon learning that he has only two months to live. Each of the interviews ends with little satisfaction on either side until, finally, a young woman journalist manages to hold her own. She's the only one who has read his novels, and she raises questions about his life and work that lead to an unexpected conclusion. Written almost entirely in dialogue, the book reads like a brilliant and graceful fencing match, and we are pulled along, unsure who will win."
— Alice Meloy, Blue Willow Bookshop, Houston, TX
Description
---
Amélie Nothomb is one of Europe's most successful and controversial authors. She wrote Hygiene and the Assasin, her first published novel, when se was only twenty-five, and it became an instant bestseller across Europe. 

Prétextat Tach, Nobel Prize winner and one of the world's most renowned novelists, has two months to live. He has been in seclusion for years, refusing interviews and public appearances. But as news of his impending death becomes public, intrepid journalists from around the globe flock to his home in pursuit of an interview with the elusive author.

One after the other they discover that, far from being the literary luminary they imagined, Tach has become an obese misogynist, a petulant bigot, an embittered, disgusting madman. The world's most famous author turns out to be the worst misanthrope imaginable.

But Nina, the final journalist and the only female to interview Tach, calls the celebrated author's bluff and beats him at his own game. Her questions and the author's biting responses fly in a triumph of brilliant repartee, and Tach is led to a definitive confrontation with his past, while Nina discoers that in love nothing is ever as straightforward as it seems.
About the Author
---
Amélie Nothomb was born in Japan of Belgian parents in 1967. She lives in Paris. Since her debut on the French literary scene, she has published a novel a year, every year. Her edgy fiction, unconventional thinking, and public persona have combined to transform her into a worldwide literary sensation. Her books have been translated into over twenty-five languages and been awarded numerous prizes including the French Academy's 1999 Grand Prix for the Novel, the René-Fallet prize, the Alain-Fournier prize and the Grand Prix Giono in 2008.

Alison Anderson is the author of two novels, Hidden Latitudes and Darwin's Wink. For Europa Editions, her translations include two novels by Sélim Nassib, Tokyo Fiancée by Amélie Nothomb, and Muriel Barbery's novel The Elegance of the Hedgehog, which spent over a year on the New York Times Bestseller List. She lives near Lausanne, Switzerland.