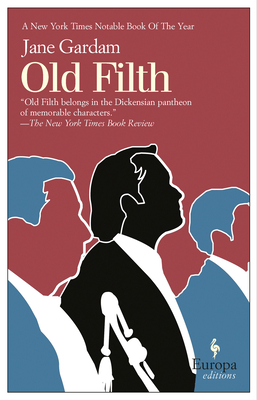 Staff Reviews
---
After 15 years of selling books it's pretty easy to delude yourself into thinking that you know it all. To swallow wholesale the uninspired opinion that you've already heard of every worthwhile writer out there. And then you read a writer like Jane Gardam -- someone totally off your radar -- and she makes you realize that the world is a whole lot bigger than you might sometimes think. Her talent is extraordinary, and I can't believe I've made it this far without reading one of her books.
— David W.
Description
---
Book One in Jane Gardam's Old Filth Trilogy

Sir Edward Feathers has had a brilliant career, from his early days as a lawyer in Southeast Asia, where he earned the nickname Old Filth (FILTH being an acronym for Failed In London Try Hong Kong) to his final working days as a respected judge at the English bar. Yet through it all he has carried with him the wounds of a difficult and emotionally hollow childhood. Now an eighty-year-old widower living in comfortable seclusion in Dorset, Feathers is finally free from the regimen of work and the sentimental scaffolding that has sustained him throughout his life. He slips back into the past with ever mounting frequency and intensity, and on the tide of these vivid, lyrical musings, Feathers approaches a reckoning with his own history. Not all the old filth, it seems, can be cleaned away.

Borrowing from biography and history, Jane Gardam has written a literary masterpiece reminiscent of Rudyard Kipling's Baa Baa, Black Sheep that retraces much of the twentieth century's torrid and momentous history. Feathers' childhood in Malaya during the British Empire's heyday, his schooling in pre-war England, his professional success in Southeast Asia and his return to England toward the end of the millennium, are vantage points from which the reader can observe the march forward of an eventful era and the steady progress of that man, Sir Edward Feathers, Old Filth himself, who embodies the century's fate.
About the Author
---
Jane Gardam is the only writer to have been twice awarded the Whitbread Prize for Best Novel of the Year. She is winner of the David Higham Prize, the Royal Society for Literature's Winifred Holtby Prize, the Katherine Mansfield Prize, and the Silver Pen Award from PEN. Her novels include: God on the Rocks, shortlisted for the Booker Prize; Old Filth, a finalist for the Orange Prize; The Man in the Wooden Hat, finalist for the Los Angeles Times Book prize, and Last Friends, finalist for the Folio Award. She lives in the south of England, near the sea.
Praise For…
---
SHORTLISTED FOR THE 2005 ORANGE PRIZE

Praise for Old Filth

"Excellent and compulsively readable...Old Filth belongs in the Dickensian pantheon of memorable characters."
—The New York Times Book Review 

"[Old Filth] will bring immense pleasure to readers who treasure fiction that is intelligent, witty, sophisticated and—a quality encountered all too rarely in contemporary culture—adult."
—The Washington Post

"Gardam is an exquisite storyteller, picking up threads, laying them down, returning to them and giving them new meaning...Old Filth is sad, funny, beautiful and haunting."
—The Seattle Times 

"A masterpiece of storytelling."
—The Dallas Morning News 

"Jane Gardam's beautiful, vivid, defiantly funny novel is a must."
—The Times 


Praise for Jane Gardam

"[Gardam] is a brilliant writer. Her prose sparkles with wit, compassion and humor."
—The Washington Post

"[Gardam] is the best kind of literary escape: serious, mesmerizing, and deeply satisfying."
—Los Angeles Review of Books

"It's hard...not to be charmed by a writer with Gardam's substantial gifts."
—The New York Times Book Review

"Gardam's prose is so economical that no moment she describes is either gratuitous or wasted."
—The New Yorker

"Gardam is a unique and wonderful writer."
—The Huffington Post