My Heart Hemmed in (Paperback)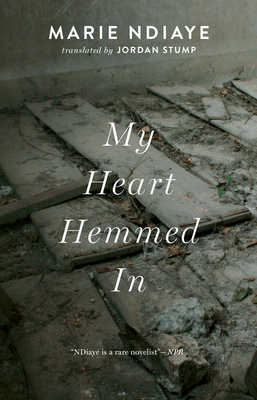 Staff Reviews
---
If you're looking for a book where things make sense, and everything wraps up neatly and nicely, this is not the book for you. On the other hand, if you're looking for something disturbing, murky, uncertain, and cerebral, then Marie NDiaye is the writer for you. Her language (in Jordan Stump's excellent translation) is grotesque, looming, and decadent, seeping into every page and oozing out of every word. Once you've sunken yourself into this world of paranoia, you won't be able to stop turning the pages as you watch the madness and cruelty unfold in this small French town.
— Jacob R
Description
---
Marie NDiaye has long been celebrated for her unrivaled ability to make us see just how little we understand about ourselves. My Heart Hemmed In is her most powerful statement on the hidden selves that we rarely glimpse--and are often shocked by. There is something very wrong with Nadia and her husband Ange, middle-aged provincial schoolteachers who slowly realize that they are despised by everyone around them. One day a savage wound appears in Ange's stomach, and as Nadia fights to save her husband's life their hideous neighbor Noget--a man everyone insists is a famous author--inexplicably imposes his care upon them. While Noget fattens them with ever richer foods, Nadia embarks on a nightmarish visit to her ex-husband and estranged son--is she abandoning Ange or revisiting old grievances in an attempt to save him? Conjuring an atmosphere of paranoia and menace, My Heart Hemmed In creates a bizarre, foggy world where strange coincidences, harsh cruelty, and constantly shifting relationships all seem part of some shadowy truth. Surreal, allegorical, and psychologically acute, My Heart Hemmed In shows a masterful author giving her readers her most complex and compelling world yet.
About the Author
---
Marie NDiaye met her father for the first time at age 15, two years before publishing her first novel. She is the recipient of the Prix Femina and the Prix Goncourt, the latter being highest honor a French writer can receive. One of ten finalists for the 2013 International Booker Prize, alongside Lydia Davis and Marilynne Robinson, she is the author of over a dozen plays and works of prose. She lives in Germany. Jordan Stump is one of the leading translators of innovative French literature. The recipient of numerous honors and prizes, he has translated books by Nobel laureate Claude Simon, Jean-Philippe Toussaint, and Eric Chevillard, as well as Jules Verne's French-language novel The Mysterious Island. His translation of NDiaye's All My Friends was shortlisted for the French-American Foundation Translation Prize. He lives in Lincoln, NB.