The New York Times Guide to New York City 2003 (Paperback)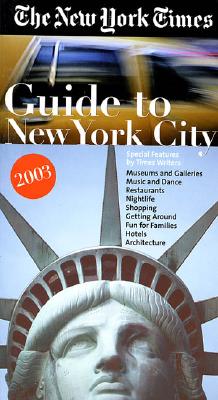 Unavailable, our apologies.
Sorry, We Can Not Obtain this Book at This Time
Description
---
The "New York Times Guide to New York City," now in its third annually revised edition draws on the firsthand knowledge of reporters and critics who live and work in New York. This guide is an invaluable reference for the tourist, businessperson or resident navigating the constantly changing cityscape. Includes:
* Coverage of the downtown area, including reopened facilities and the latest development plans and their effect on subways and roads;
* 300 reviews of the city's top restaurants by William Grimes and Eric Asimov, reflecting the major changes in the dining scene;
* Top attractions for both tourists and locals, including sightseeing, museums, shopping, parks, and walking tours;
* Extensive hotel coverage, with ratings of more than 100 hotels;
* Theater, Arts, and Music recommendations by top "Times "critics;
* Neighborhood by neighborhood guides with clear easy-to read maps;
* Getting to and from New York, best bets in nightlife, New York for children and more.