Erotic Sex Stories Collection: 43 Explicit Arousing Taboo Adult Tales of BDSM, Ganging, Anal Sex, Threesome, Dirty Talk, MILFs and Many More (Paperback)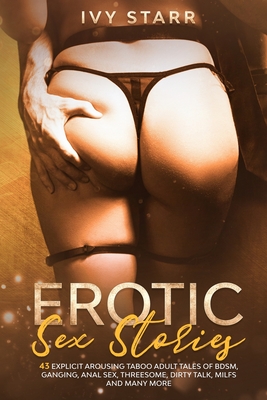 $39.95
Not On Our Shelves - Available to Order
Description
---
If you are into literotica and you are looking to quench your thirst for kinky sex stories involving all manner of "unusual", "non-mainstream" stuff, keep reading...
You are about to find a large collection of kinky arousing erotic sex stories covering all manner of subgenres ranging from lesbian and BDSM to orgasm stories, out of this world blowjob stories, virgin erotic coupling, and so much more that will leave you shuddering in satisfaction
Research shows that just 30 to 45 minutes of listening to erotic sex stories results to a good mood, increased arousal, and better sexual relations between partners, among many other things.
By virtue that you are reading to this, you probably know all too well how literotica tickles your fancy.
And Erotic Sex Stories Collection is about to do just that by presenting a collection of erotic sex stories that check all the boxes of what kink really entails, something that will meet fulfill your need to live your fetishes, even if in your mind
So if questions like....
Does the book have multiple stories for each kind of kink?
Will the stories be unique and not the same old recycled stuff with different characters?
Are the stories explicit and exciting enough for someone who has read countless number of sex stories?
And others are going through your mind, the answer is a yes, so keep reading.
Here is a sneak peak of what to expect in this book:
Erotic interlude, lesbians
Deadly temptress, BDSM
Trial of beauty, orgasm stories
Human touch, virgin erotic coupling
Lethal risk, blowjob
And much more
Even if you think you are not the type to be aroused easily, the stories in this book will prove you otherwise
Reading about stories of people having all kinds of sexual acts is enough to turn you on like very few things can, as you imagine and create the image of people having all manner of sexual acts, something that gets your adrenaline pumping and sexually aroused.
What's more, you get to insert yourself in the story, with your crush or your partner to make the stories even more arousing and personal Yes, you can twist and turn every story in whichever way you want to drive yourself on the edge, as you make each story juicier
So by the time you finish reading to each story, you can be rest assured of blue balls or very wet pants - you've been warned
Are you ready to have the best orgasm of your life?
Click on "Buy Now"