Prose (Seagull World Literature) (Hardcover)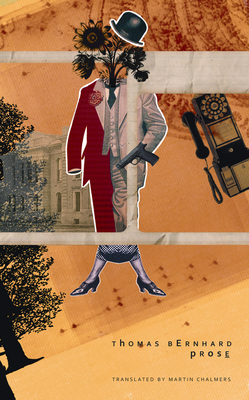 Unavailable, our apologies.
Sorry, We Can Not Obtain this Book at This Time
Description
---
"His manner of speaking, like that of all the subordinated, excluded, was awkward, like a body full of wounds, into which at any time anyone can strew salt, yet so insistent, that it is painful to listen to him," from The Carpenter
The Austrian playwright, novelist, and poet Thomas Bernhard (1931–89) is acknowledged as among the major writers of our time. The seven stories in this collection capture Bernhard's distinct darkly comic voice and vision—often compared to Kafka and Musil—commenting on a corrupted world.
            First published in German in 1967, these stories were written at the same time as Bernhard's early novels Frost, Gargoyles, and The Lime Works, and they display the same obsessions, restlessness, and disarming mastery of language. Martin Chalmer's outstanding translation, which renders the work in English for the first time, captures the essential personality of the work. The narrators of these stories lack the strength to do anything but listen and then write, the reader in turn becoming a captive listener, deciphering the traps laid by memory—and the mere words, the neverending words with which we try to pin it down. Words that are always close to driving the narrator crazy, but yet, as Bernhard writes "not completely crazy."
 "Bernhard's glorious talent for bleak existential monologues is second only to Beckett's, and seems to have sprung up fully mature in his mesmerizing debut."—From Publishers Weekly, on Frost
 "The feeling grows that Thomas Bernhard is the most original, concentrated novelist writing in German. His connections . . . with the great constellation of Kafka, Musil, and Broch become ever clearer." —George Steiner, Times Literary Supplement, on Gargoyles
About the Author
---
Thomas Bernhard grew up in Salzburg and Vienna, where he studied music. In 1957, he began a second career as a playwright, poet, and novelist. He went on to win many of the most prestigious literary awards of Europe. Martin Chalmers is a translator and editor whose translations include works by Hubert Fichte, Ernst Weiss, Herta Müller, Alexander Kluge, Emine Sevgi Özdamar, and Erich Hackl.
Praise For…
---
"This newly translated collection of Thomas Bernhard's prose,
Prose,
should be welcomed as a major event in contemporary letters. Most of these stories, in classic Bernhard fashion, take as their subject a failure who will not fail, a madman who will not go mad, an impossible suicide—a suicide always reverting back to what the 'I,' the voice which insists itself, can or would do—has, would have, or will have done. Translator Martin Chalmers renders Bernhard's German with poetic precision, and without missing any earmarks of the latter's dense and rich writing style: sentences which wind around themselves, and which constantly, in multiform ways, miss and re-encounter their subjects—which are always ending and beginning again, repeating or forgetting themselves. Each one of the seven stories in
Prose
shimmers with the shadow contained in—and containing—any one of Bernhard's novels."
— Alec Niedenthal
"Fortunately, for all of its easily identifiable Bernhardian preoccupations—its suicides and murderers, its haunted characters—the previously untranslated story collection
Prose
provides, in miniature, both an ideal introduction and a refresher to the work of one of the singular European writers of the twentieth century."
— Stephen Sparks
"Thomas Bernhard is a god. . . . Prose is his first story collection, originally published in 1967 and, amazingly, not once translated into English until 2010. It was worth the wait. This is Bernhard being Bernhard (as he always was)–the endless paragraphs; the mordant, suicidal, probably insane narrators; the incredible mastery of language. . . . Certainly one of the best things I read this year."
— Scott Esposito
"Prose is most interesting . . . as a marker of the evolution of Bernhard's style and sensibility. In 'The Carpenter,' we encounter the line 'The fault lies with the state,' which would practically become Bernhard's mantra; in 'The Cap,' there is the equally familiar narrator who feels 'always close to going completely mad, but not completely mad.'"
— Dale Peck
"The neuroticism and cruelty on display in these seven newly translated short stories leave you short of breath but entirely absorbed – or, more accurately, entrapped. The theme of imprisonment runs through the collection, and Thomas Bernhard forces us to confront his characters' sense of confinement with dizzying, claustrophobic whirls of syntax. . . . In theme and style,
Prose,
which was originally published in 1967, closely echoes Bernard novels such as
Old Masters
and
Concrete
. It provides an excellent introduction to his work, or a satisfying reading experience in itself for those who like angst in small doses."
— Mina Holland
"[The] vision of the world's absurdity, futility, and evil is a constant in Bernhard's work. What varies is the mood or spirit in which the vision is enforced."
— New York Review of Books