City Secrets New York City (Hardcover)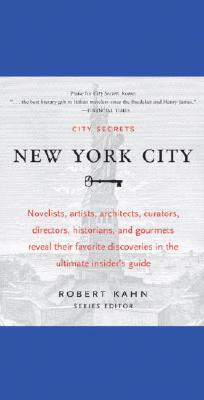 Unavailable, our apologies.
Sorry, We Can Not Obtain this Book at This Time
Description
---
City Secrets has turned its innovative concept to New York, and the result is the fourth and—at 582 pages—the largest in this acclaimed series of guidebooks. City Secrets New York City, edited by Robert Kahn, is a breathtaking guide to art, food, architecture, and cultural landmarks in all five boroughs, written by more than 300 savvy and sophisticated New Yorkers. The entries range in tone from the literary to the conversational, the humorous to the scholarly. Together, this collection of vignettes forms not only a practical guidebook, but a dazzling panorama of the magnificent city.

In the pages of City Secrets New York City:

• A Pulitzer Prize-winning novelist evokes a timeless Village bookstore

• An artist takes you on an intimate tour of three exceptional paintings

• A food editor invites you into the sepia-toned interiors of vintage saloons

• An architect introduces you to the tailor that fitted Ernest Hemingway in the 1930's

• A writer leads you to the Diamond District to find the best cheese blintzes in the city

• A producer recommends a Midtown coffee shop where actors, directors and producers can be found hatching the next Broadway hit

This elegant, clothbound book features a subtle, non-guidebook design, detailed maps of all five boroughs, and recommended reading. New Yorkers who contributed to City Secrets New York City include: novelists Michael Cunningham and Rick Moody, actors Laura Linney and Eric Stolz, journalists Anna Quindlen and Kurt Andersen, poet laureate Mark Strand, neurologist Oliver Sacks, architects Richard Meier and Philip Johnson, MoMA director Glenn Lowry, artist Brice Marden, playwright John Guare, designer Kate Spade, and many others, including historians, urban archaeologists, gourmets, curators, and filmmakers.
Praise For…
---
"Kahn's book is rich in lovely little facts that enhance a visit... You don't have to come to New York to learn from "City Secrets: New York City" --- it's equally enjoyable as a glorious armchair travel guide. And, with a fast Internet connection, you can drop in at most of the destinations. Seen that way, this is a colossal bargain." --HeadButler