Russia - Culture Smart!: The Essential Guide to Customs & Culture (Paperback)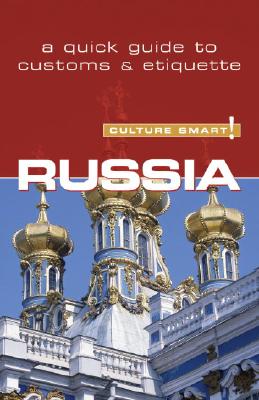 Unavailable, our apologies.
Description
---
Culture Smart! provides essential information on attitudes, beliefs and behavior in different countries, ensuring that you arrive at your destination aware of basic manners, common courtesies, and sensitive issues. These concise guides tell you what to expect, how to behave, and how to establish a rapport with your hosts. This inside knowledge will enable you to steer clear of embarrassing gaffes and mistakes, feel confident in unfamiliar situations, and develop trust, friendships, and successful business relationships. Culture Smart! offers illuminating insights into the culture and society of a particular country. It will help you to turn your visit-whether on business or for pleasure-into a memorable and enriching experience. Contents include: * customs, values, and traditions * historical, religious, and political background * life at home * leisure, social, and cultural life * eating and drinking * do's, don'ts, and taboos * business practices * communication, spoken and unspoken
About the Author
---
Anna King is a Russian-born business development consultant specializing in cross-cultural issues, negotiation practices, and conflict management. She speaks seven languages, and has an M.Phil. degree from Cambridge University. Anna has worked with key government and decision makers in Britain and across the CIS. She has also interpreted for high-level government visits to the UK and for senior ministerial meetings at the EU in Brussels. Having worked in business development for a number of years for two major British corporations, she is now managing director of the British-based consultancy 3C Negotiations, and is the author of numerous articles and two books on cross-cultural communication.
Praise For…
---
"Culture Smart has come to the rescue of hapless travellers." —Sunday Times Travel