A Life on the Lines: The Grand Old Man of Steam (Hardcover)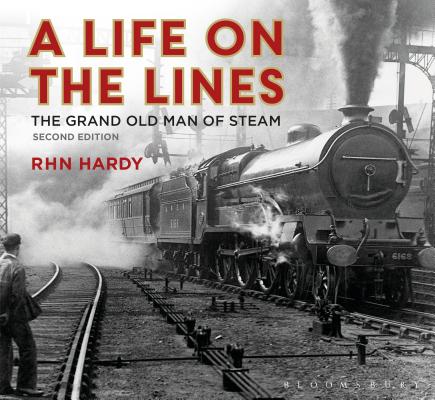 Unavailable, our apologies.
Description
---
During much of his early career, from 1944 through to the early 1960s, Richard Hardy took hundreds of pictures of life on the railways and the men he knew and worked with on a daily basis, using his trusty Brownie 620 box camera. These unique behind the scenes images form a fascinating and hugely evocative portrayal of Britain at the height of the era of steam, during the time of the 'Big Four', and after 1947 when the sprawling nationalised network known as British Railways came of age.
The second edition contains many new unseen photos which capture the railways in wartime, providing a valuable social record of the nation at war. In addition there is a sequence of rare photographs of French engines, railways and railwaymen, offering a superb contrast to the British rail network (it quickly becomes evident that the British rail system ran on tea, whereas the French system ran on wine). Great characters are the unifying theme of the pictures, and they include famous figures associated with the railways, such as the poet John Betjeman.
This wonderfully illustrated book sets Richard's personal photographs and text alongside a carefully collated selection of ephemera, artworks and photographs drawn from the National Railway Museum in York. Collectively these images and artifacts tell the stories of the great brotherhood of railwaymen, brilliantly evoking the speed, heat and dust of the footplate.
About the Author
---
Richard Harry Norman Hardy worked on Britain's railways for over 40 years, serving his apprenticeship at Doncaster Locomotive Works and Running Shed between 1941-44, before becoming a shed master, locomotive engineer, divisional manager at King's Cross and Liverpool stations and an Engineering and Research development adviser. He retired in 1982 with more than 60,000 miles of footplate experience on all classes of LNER, GC and GN engines. Richard is the author of four books and numerous articles, including Beeching: Champion of the Railway?, and Bert Hooker: Legendary Railwayman.
Praise For…
---
"A real must for the rail enthusiast's bookshelf." —Who Do You Think You Are Magazine
"This is a fascinating insight into the world of a career railwayman in the age of steam. A picture speaks a thousand words and the story comes to life ... this is far more than a collection of three-quarter front views of trains." —Heritage Railways
"The reminiscences give the book its feel and authenticity. Here are Britain s railways as they used to be, seen by a man whose life was shaped by steam." —The Times Register
"A treasure chest of memories of the life and camaraderie that made work on the pre-privatisation railway an enriching career...the book is a great tribute to a railway brotherhood that served the country so well." —The Railway Observer