Explicit Erotic Sex Stories: FAR IN THE ROCKIES BALLS (GANGBANGS): An invitation to a holiday party contributes to an erotic New Year's Eve celebra (Paperback)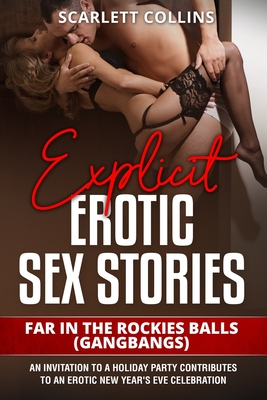 Unavailable, our apologies.
Sorry, We Can Not Obtain this Book at This Time
Description
---
Get comfortable, dim the lights and let your Imagination Run Wild with this Exciting Story...
Your Customer Never Stop Reading this Exciting Explicit Romance Novel Book
A chronic womanizer who would sleep with any woman in a skirt, especially at his workplace, was invited for a Christmas celebration by his best friend. After years of declining, he finally decided to honor the invitation. Rob and his wife Gwen decided to invite their friend for Christmas. They were happy that he was going to show up after several years of requests. On his arrival, the couple told him that they would also host a woman who had just been recently divorced from her husband, just three weeks ago, named Alexis. Not long thereafter, he began to have sex with Alexis, and he would inquire more about her past. The sexual intimacy continued, and soon he shifted to Gwen. He saw her in the shower naked. One thing led to another, and they had sex; her husband Rob was oblivious. The sexual intimacy grew to a larger extent in which they decided to settle for a gangbang, an experience that they loved so much and would look forward to having more and more of it...
Buy it NOW and let your customers Become Addicted to the Incredible Series of Novels written by Scarlett Collins