Under the Bridge (MP3 CD)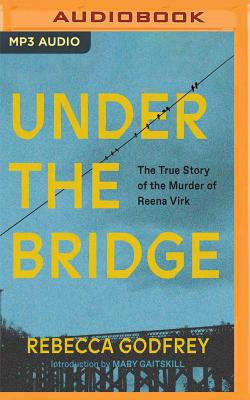 Unavailable, our apologies.
Sorry, We Can Not Obtain this Book at This Time
Staff Reviews
---
A beautiful piece of literary crime reporting, Under The Bridge is one of the best true crime books I have ever encoutered. Begun when Godrey was twenty-seven and still finishing her first novel, Under the Bridge tells the story of a murder that took place in the Canadian island town of Victoria during the autumn of 1997. Reena Virk, a fourteen year old girl, was beaten to death by a group of her peers under a bridge, and then drowned by two of the teenagers in the water. All but one of those involved were girls. A stunning narrative touching on the violence of young women, this book was before its time, and this reissue is well overdue.
— Madeleine
Under the Bridge reads like a high school yearbook, and feels as familiar and horrifying as flipping through your own. Sure, kids can be killers; but as the crime and consequences are slowly revealed, Godfrey never lets you forget they're still kids. Among the best literary true crime there is.
— Bekah
Description
---
"A swift, harrowing classic perfect for these unnerving times." (Jenny Offill, author of Dept. of Speculation)
One moonlit night, 14-year-old Reena Virk went to join friends at a party and never returned home. In this "tour de force of crime reportage" (Kirkus Reviews), acclaimed author Rebecca Godfrey takes us into the hidden world of the seven teenage girls - and boy - accused of a savage murder. As she follows the investigation and trials, Godfrey reveals the startling truth about the unlikely killers. Laced with lyricism and insight, Under the Bridge is an unforgettable look at a haunting modern tragedy.