Boy oh Boy: From boys to men, be inspired by 30 coming-of-age stories of sportsmen, artists, politicians, educators and scientists (Hardcover)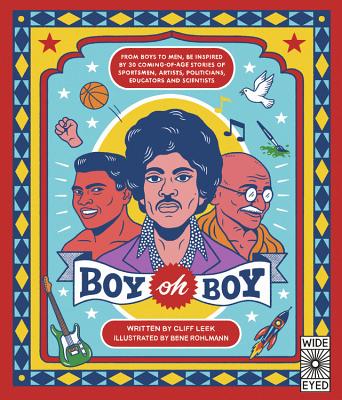 $22.99
On Our Shelves Now - Available to Ship to Your Home
Description
---
Meet 30 positive male role models from throughout history. From activists like Mahatma Gandhi and Frederick Douglass to creative innovators like Prince and David Hockney, these men have fought conventional stereotypes to prove that modern-day masculinity can be defined freely.

Instead of a single model of how a boy can grow into a man, this book offers 30 stories of people whose lives demonstrate that there are endless possibilities—that boys and men can do and be so much more than what we think of when we say things like "boys will be boys."

Discover a world of inspirational change-makers, teachers, peacemakers, artists, scientists, and more who have defied the expectations, care deeply about others, stand up for what is right, and express themselves in creative and exciting ways.

Inspiring a new generation of boys:

David Hockney; Muhammad Ali; Nelson Mandela; Prince; Richard Loving; César Chávez; Thurgood Marshall; John Muir; Lebron James; Frederick Douglass; Patricio Manuel; Hayao Miyazaki; Oscar Wilde; Ta-Nehisi Coates; Ezra Jack Keats; Freddie Mercury; Grandmaster Flash; Luther Christman; Mahatma Gandhi; Bruce Lee; Carl Sagan; George Washington Carver; Jaime Escalante; Carlos Acosta; Bayard Rustin; Edward Enninful; John Dewey; Alfred Nobel; Kit Yan; and W.E.B. Du Bois.
About the Author
---
Dr Cliff Leek is an Assistant Professor of Sociology at the University of Northern Colorado and President of the American Men's Studies Association. He writes, speaks, and consults on issues of masculinity, whiteness, workplace inequalities, violence, and activism.
Bene Rohlmann is an illustrator based in Berlin, Germany. His clients include: The New York Times, GQ Magazine, Facebook, Google, Variety, Rolling Stone, Architectural Review and Converse.
Praise For…
---
"This volume puts a positive spin on adage "boys will be boys" by introducing 30 male public figures whose talents and accomplishments have earned them notoriety and admiration. The subjects—among them Ta-Nehisi Coates, Nelson Mandela, and Freddie Mercury—represent a broad spectrum of professions, eras, and backgrounds. Rohlmann creates portraits of each subject in a bold graphic style reminiscent of artful posters. Writing in a casual tone with candid detail, Leek includes a full page of biographical information for each individual (though the order in which the figures are presented feels haphazard). In an era when toxic masculinity is at the forefront of public discourse, this text provides a more expansive view of what people can aspire to be."
- Publishers Weekly