Futures of Black Radicalism (Paperback)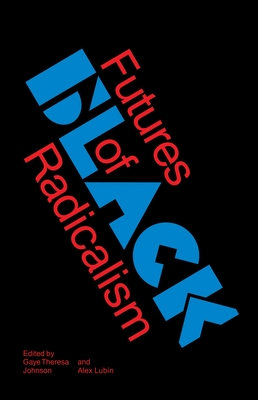 Staff Reviews
---
This is a highly varied anthology written in tribute and response to the work of Cedric J. Robinson, author of Black Marxism. Nikhil Pal Singh's essay on racial capitalism and primitive accumulation feels truly important; Stefano Harney and Fred Moten administer a characteristically rousing rejoinder to Hegel's extrapolation of private property from a bourgeois European notion of embodiment as auto-appropriation; Ruth Wilson Gilmore's essay on prison abolition is a must-read, as this no-brainer social justice issue still seems to split a putative left; Shana L. Redmond and Kwame M. Philips furnish the reader with an absolutely galvanizing annotated playlist. Those are only a few highlights, there's a lot to read eagerly here. 
— Cam
Description
---
With racial justice struggles on the rise, a probing collection considers the past and future of Black radicalism
Black rebellion has returned. Dramatic protests have risen up in scores of cities and campuses; there is renewed engagement with the history of Black radical movements and thought. Here, key intellectuals—inspired by the new movements and by the seminal work of the scholar Cedric J. Robinson—recall the powerful tradition of Black radicalism while defining new directions for the activists and thinkers it inspires.

In a time when activists in Ferguson, Palestine, Baltimore, and Hong Kong immediately connect across vast distances, this book makes clear that new Black radical politics is thoroughly internationalist and redraws the links between Black resistance and anti-capitalism. Featuring the key voices in this new intellectual wave, this collection outlines one of the most vibrant areas of thought today.

With contributions from Greg Burris, Jordan T. Camp, Angela Davis, Ruth Wilson Gilmore, Avery F. Gordon, Stefano Harney, Christina Heatherton, Robin D.G. Kelley, George Lipsitz, Fred Moten, Paul Ortiz, Steven Osuna, Kwame M. Phillips, Shana L. Redmond, Cedric J. Robinson, Elizabeth P. Robinson, Nikhil Pal Singh, Damien M. Sojoyner, Darryl C. Thomas, and Françoise Vergès.
About the Author
---
Gaye Theresa Johnson is Associate Professor of Black and Chicana/o Studies at UCLA and author of Spaces of Conflict, Sounds of Solidarity: Music, Race, and Spatial Entitlement in Los Angeles. 

Alex Lubin is Professor and Chair of American Studies at the University of New Mexico and author of Geographies of Liberation: The Making of an Afro-Arab Political Imaginary and Romance and Rights: The Politics of Interracial Intimacy, 1945–1954.
Praise For…
---
"Cedric Robinson was a towering intellectual and courageous activist in the grand tradition of W.E.B Du Bois. In these bleak times, it is imperative to keep his legacy alive and build on his work and witness. This book meets this imperative in a powerful way!"
—Cornel West, author of The Radical King

"In America, issues of race, poverty, and injustice haunt our nation. Futures of Black Radicalism examines causes and resolutions of these troubling challenges. The need for radical thinking has never been more evident. To this end, this book is not just a gift; it is a necessity."
—Harry Belafonte

"An astonishing gathering of essays and interviews featuring leading and emerging radical intellectuals."
—David Roediger, author of Class, Race, and Marxism

"What stands out about this book is the richness of intellectual discourse within its pages. A variety of historians, sociologists, and other scholars all tackle a central question: what, precisely, does the Black Radical Tradition say about life in the twenty-first century?"
—Robert Greene III, Society for US Intellectual History Blog