In Defense of Housing: The Politics of Crisis (Paperback)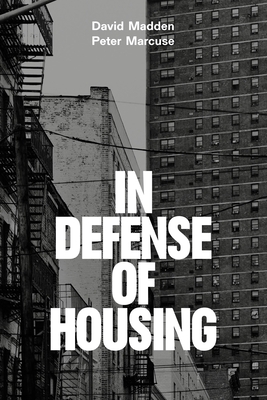 Staff Reviews
---
The path out of every housing crisis has been a return to a notion of the home as a space of function, not of value. More plainly spoken, a pushback against the notion of housing as a source of capital, favoring an understanding of housing as a human right. This book succinctly explores this idea, situated in the context of New York City. As relevant as ever.
— Gleb
Description
---
In every major city in the world there is a housing crisis. How did this happen and what can we do about it?

Everyone needs and deserves housing. But today our homes are being transformed into commodities, making the inequalities of the city ever more acute. Profit has become more important than social need. The poor are forced to pay more for worse housing. Communities are faced with the violence of displacement and gentrification. And the benefits of decent housing are only available for those who can afford it.

In Defense of Housing is the definitive statement on this crisis from leading urban planner Peter Marcuse and sociologist David Madden. They look at the causes and consequences of the housing problem and detail the need for progressive alternatives. The housing crisis cannot be solved by minor policy shifts, they argue. Rather, the housing crisis has deep political and economic roots—and therefore requires a radical response.
About the Author
---
Peter Marcuse is Emeritus Professor of Urban Planning at Columbia University's Graduate School of Architecture, Planning and Preservation. He has written extensively in English as well as German, in the US, the UK and various other European countries. His work has also appeared in newspaper and magazines such as the Nation, New York Newsday, Monthly Review, Shelterforce and many others.

David Madden is Assistant Professor in the Department of Sociology and the Cities Programme at the London School of Economics. He has published academic articles in some of the leading urban studies journals, and is Editor at the journal CITY. He has also published reviews and commentary in outlets including the LSE Review of Books, Washington Post and the Guardian.
Praise For…
---
"Excellent."
—Charles Mudede, The Stranger

"An accessible, jargon-free account of how housing works under capitalism and a clarion call for how we can—and must—change it."
—Socialist Review

"A critical analysis of the nature of the housing crisis within a political economy perspective. The authors highlight a conflict between housing as home and as real estate for profit making and focus upon processes of commodification of housing, power and exploitation, and inequality and injustice in contemporary capitalist society … A significant contribution to urban planning, sociology, and public policy."
—D.A. Chekki, Choice

"In Defense of Housing clearly lays out the systemic nature of the housing crisis and seamlessly breaks down complicated economic concepts. Madden and Marcuse gently disabuse readers of illusions that the end of the housing crisis is just a policy tweak away."
—James Tracy, Rooflines

"A timely and exceptional book with enormous significance to housing movements everywhere … By providing even the most experienced housing scholars with a clear conceptual and analytic apparatus that moves beyond a rights-based approach to housing, it can be used as a tool for activisms, for legal claims, for political and policy discussions and in scholarly debates and classrooms."
—Melissa Fernández Arrigoitia, City Journal