One! Hundred! Demons! (Hardcover)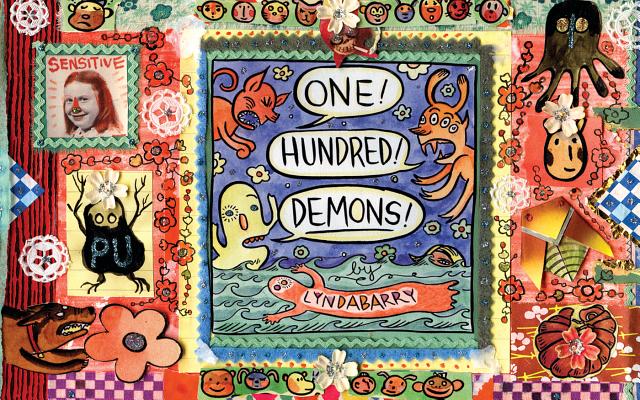 Staff Reviews
---
It didn't take a MacArthur Grant for most of us to find out that Lynda Barry is a genius. Taking her cue from a classic Japanese scroll (which can be viewed at the Met), Barry delves into her past to see what kinds of demons she can conjure. What follows is an autobiographical series of comic strips filled with youthful hilarity and nostalgia as well as adolescent shame and rage. Her work is always evocative and compelling in surprising ways.
— Jacob
Description
---
"You'll wonder how anything can be so sad and so funny at the same time." —Lev Grossman, Time

Inspired by a sixteenth-century Zen monk's painting of a hundred demons chasing each other across a long scroll, acclaimed cartoonist Lynda Barry confronts various demons from her life in seventeen full-color vignettes. In Barry's hand, demons are the life moments that haunt you, form you, and stay with you: your worst boyfriend; kickball games on a warm summer night; watching your baby brother dance; the smell of various houses in the neighborhood you grew up in; or the day you realize your childhood is long behind you and you are officially a teenager.

As a cartoonist, Lynda Barry has the innate ability to zero in on the essence of truth, a magical quality that has made her book One! Hundred! Demons! an enduring classic of the early twenty-first century. In the book's intro, however, Barry throws the idea of truth out of the window by asking the reader to decide if fiction can have truth and if autobiography can have a fiction, a hybrid that Barry coins "autobiofictionalography." As readers get to know Barry's demons, they realize that the actual truth no longer matters because the universality of Barry's comics, true or untrue, reigns supreme.
About the Author
---
Lynda Barry has worked as a painter, cartoonist, writer, illustrator, playwright, editor, commentator, and teacher and found that they are very much alike. She lives in Wisconsin, where she is associate professor of art and Discovery Fellow at University of Wisconsin Madison.


Barry is the inimitable creator behind the seminal comic strip that was syndicated across North America in alternative weeklies for two decades, Ernie Pook's Comeek, featuring the incomparable Marlys and Freddy. She is the author of The Freddie Stories, One! Hundred! Demons!, The! Greatest! of! Marlys!, Cruddy: An Illustrated Novel, Naked Ladies! Naked Ladies! Naked Ladies!, and The Good Times are Killing Me, which was adapted as an off-Broadway play and won the Washington State Governor's Award.


She has written three bestselling and acclaimed creative how-to graphic novels for Drawn & Quarterly, What It Is which won the Eisner Award for Best Reality Based Graphic Novel and R.R. Donnelly Award for highest literary achievement by a Wisconsin author; Picture This; and Syllabus: Notes From an Accidental Professor, and In 2019 she received a MacArthur Genius Grant. Barry was born in Wisconsin in 1956.
Praise For…
---
You'll wonder how anything can be so sad and so funny at the same time. -Lev Grossman, Time