The Death-Ray (Hardcover)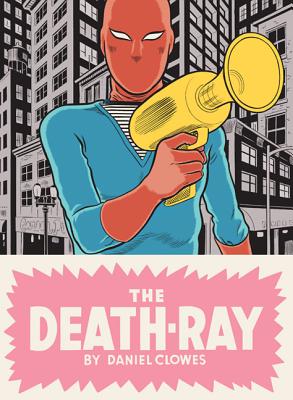 Staff Reviews
---
Daniel Clowes is Lisa Simpson's favorite graphic novelist. Smart girl. Clowes's newest release, "The Death-Ray," is a 48-page (let's call it a graphic novella) alternative take on the superhero myth: an ordinary guy gets extraordinary powers and exploits them in ordinary ways. Clowes clashes the fantastic with the mundane and the result is absolutely extraordinary.
— Fiona
We all know how it works in panels on a page, but if a real teenage boy were to develop superpowers, would that make him a hero? It's complicated, says Daniel Clowes. As penetrating a commentary on its own medium as Watchmen, but with much more to say about why comics matter so much to those of us who are no heroes.
— Shuja
Description
---
ON TIME, NPR AND USA TODAY'S BEST-OF 2011 LISTS! WINNER OF THE EISNER, HARVEY AND IGNATZ AWARDS

Teen outcast Andy is an orphaned nobody with only one friend, the obnoxious—but loyal—Louie. They roam school halls and city streets, invisible to everyone but bullies and tormentors, until the glorious day when Andy takes his first puff on a cigarette. That night he wakes, heart pounding, soaked in sweat, and finds himself suddenly overcome with the peculiar notion that he can do anything. Indeed, he can, and as he learns the extent of his new powers, he discovers a terrible and seductive gadget—a hideous compliment to his seething rage—that forever changes everything.

The Death-Ray utilizes the classic staples of the superhero genre—origin, costume, ray gun, sidekick, fight scene—and reconfigures them in a story that is anything but morally simplistic. With subtle comedy, deft mastery, and an obvious affection for the bold pop-art exuberance of comic book design, Daniel Clowes delivers a contemporary meditation on the darkness of the human psyche.
About the Author
---
Daniel Clowes is the acclaimed cartoonist of the seminal comic book series Eightball and the graphic novels Ghost World, David Boring, Ice Haven, Wilson, Mr. Wonderful, and The Death-Ray. He is the subject of the monograph The Art of Daniel Clowes: Modern Cartoonist, published in conjunction with a major retrospective exhibit. He is the Oscar-nominated screenwriter of Ghost World, Art School Confidential, and Wilson.

Clowes is the recipient of numerous awards including the PEN Award for literature, an Eisner, a Harvey, and an Ignatz, and a frequent cover artist for The New Yorker. He is married and lives in Oakland, CA.
Praise For…
---
"Daniel Clowes continues to plot a lofty, lonely course through the subconscious of popular culture with this hilariously bleak graphic novel." —TIME Best of 2011

"48 pages densely packed with art, dialogue and ideas, The Death-Ray [is] supersaturated, a story delivered directly into your imagination..." —NPR

"Clowes once again shows he is a master of current-day absurdity -- with heart." —USA Today

"The Death-Ray reads as a cautionary parable and an acidic rumination on the travails of adolescence . . . Clowes demonstrates what the comic book can do and literary fiction can't. " —The Observer