Trump Is a Duck: A Rabbit Hole of Narcissism and Empathy (Hardcover)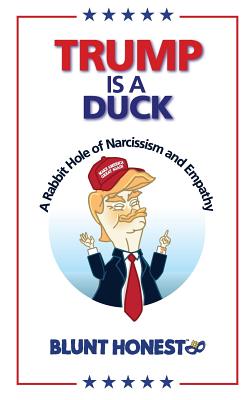 $19.99
Not On Our Shelves - Available to Order
Description
---
This book answers these questions:
- Is Trump a narcissist?
- Does he have empathy?
- Is he patriotic or prejudiced?
- Why do people support him?
- How does he influence people?
​​​​​​Trump Is a Duck is like Alice in Wonderland visits George Orwell's 1984.
Donald Trump is the poster child of narcissism. He polarizes people and is frequently at the center of controversies.
This award-winning book takes a satirical look at Donald Trump's life and a serious look at how narcissism and empathy affect the world.
This colorfully illustrated book has 90 illustrations and shares links to YouTube playlists. Those video montages make the pages of this book come alive.
Trump Is a Duck takes you on a journey through time. You will be inspired, enlightened, and amused.
About the Author
Blunt Honest is on a mission to change the world by helping people realize that the world doesn't revolve around one person, one political party, one nation, one gender, one race, one religion, or one species.
All of us are Earthlings. Every man, woman, child, and creature are children of the planet Earth. Let's work together and save the world.
You will want to follow the thoughts, ideas, and adventures of Blunt Honest, especially if you live anywhere near the planet Earth.
To learn more, visit: www.BluntHonest.com