Toddler coloring books ages 1-3 travel: Toddler coloring book numbers colors shapes (Paperback)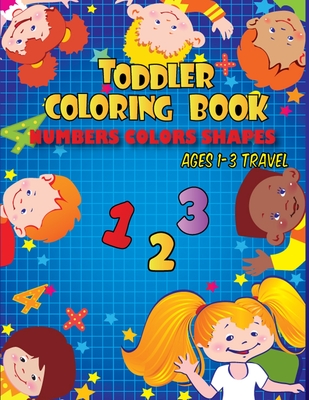 $5.38
Not On Our Shelves - Available to Order
Description
---
Discover a Fun & Exciting Learning Experience with Our Toddler, coloring book numbers, colors, shapes, for Toddlers & Kids, AGES 2, 3, 4 & 5

Pre-school learning builds the foundation of success later in life, so always choose the best workbooks and toddler learning toys. Parents buy all kinds of fancy toddler learning materials: Frozen coloring books, superhero books, unicorn learning toys and so on...

But our Coloring Book makes the perfect choice

It will teach your kids the NUMBERS and SHAPES, provide hours of fun, trigger their creativity, and improve their focus and learning ability

Here's what makes our coloring book so great:
Pictures: this toddler coloring book has been made with your children's learning processes and motor development in mind. The pictures are simple and attention-grabbing, and thick lines serve for frustration-free coloring.

Storytelling potential: toddler learning is a complex process that integrates thinking, emotions and motor skills. The pictures have been thoughtfully designed so that you can tell a whole story about each one. This makes the book an endless source of fun and helps strengthen your parent-child relationship.

Variety: this book provides a mind-expanding variety of pictures. Animals, vehicles, people, everyday objects and fun monsters - your toddler is sure to learn new words and concepts along the way.
Fun for everyone: the book is aimed at girls and boys of all cultures, ages 2, 3, 4 & 5.
Superior quality: the high-quality sturdy paper ensures that this toddler book will survive occasional careless handling. Also, the paper is thick enough to prevent most markers from bleeding through it and ruining the following pages - now your toddler isn't limited to crayons
Your little one will enjoy developing their learning skills with this toddler activity book.

So scroll up, click on "
Buy now with 1-Click
", and Get Your Copy Now

tags: kid books ages 1-3, activity books for kids ages 3-5, toddler coloring books, toddler coloring book, toddler coloring books ages 1-3, toddler coloring books ages 2-4, color books for kids 2-4, coloring books for toddlers, alphabet books for toddlers ages 1-3, abc books for toddlers, preschool workbooks age 2-3, toddler activity book, coloring books for kids ages 2-4, alphabet books for kids ages 3-5, abc book, toddler coloring, toddler activity books ages 1-3, toddler workbooks age 2, coloring book for kids, coloring books for kids, kids coloring books, kids books ages 1-2, toddler learning books, activity books for kids ages 4-8, coloring books for kids ages 4-8, toddler books, color by numbers for kids ages 4-8, pre school workbook age 4, pre school workbook age 3, toddler sticker books ages 1-3, coloring for toddlers, preschool workbooks age 4, kids books ages 2-4, toddler books ages 1-3, books for toddlers, pre k workbook age 4, kids learning books, toddler books ages 2-4, toddler book, prek workbooks age 4-5, pre-k workbooks age 4, sticker books for kids 2-4