Parallel Lives (Paperback)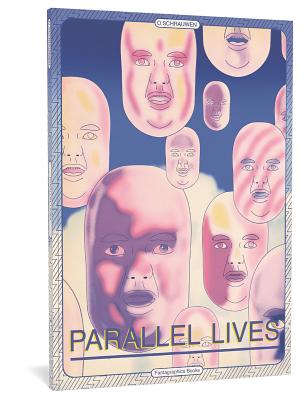 Staff Reviews
---
This book begins innocently enough: with the author getting jerked off by aliens who then proceed to show him a comprehensive history of human warfare. From there, a series of amoral (though not asexual) stories unfold like a peyote vision quest through Berghain on the moon. In some ways these comics are complete buffoonery, but I can't help but recognize this collection as the most thoroughly 21st-century work of fiction I've read in a long time.
— Derek
Description
---
One of comics' true visionary formalists reinvents science fiction in this graphic novel.
This collects six wildly inventive short comics stories that might collectively be dubbed "speculative memoir." Schrauwen's deadpan depictions of his and his offspring's upcoming lives include alien abduction, dialogue with future agents, and coded messages in envelopes at breakfast.
About the Author
---
Olivier Schrauwen was born in Belgium in 1977 and studied animation at the Academy of Art in Gent, and comics at the Saint Luc in Brussels. He currently lives in Berlin.
Praise For…
---
A dazzling and disorienting collection of short stories detailing the author's interactions with the future. … By the final page, it's the reader who has been abducted, by the cartoonist, captivated by witnessing time and space made malleable in Schrauwen's hands.
— The New Yorker

A potent volume of linked and mangled autofictions, with delirious color chords you only find in dreams.
— The New York Times

In Schrauwen's mind-inverting masterpiece Parallel Lives, the cartoonist's alien abduction branches into a series of funny and frightening psychosexual ruminations on the nature of relationships that feel as fresh and strange as human life actually is.

— The Guardian

Schrauwen is one of the most provocative creators in the world of comics today, so it's not surprising that he would produce such a multidimensional work.
— NPR Books

Schrauwen returns with another heady and inventive collection tales… This sophisticated, inventive story cycle never fails to entertain, and strikes plenty of cerebral sparks.
— Publishers Weekly

Schrauwen tackles the basic building blocks of comics, science fiction, and our cultural sexual norms for insightfully entertaining results.
— PopMatters

This collection of six short stories is sharp, witty, beautifully drawn and a searing satire on the modern condition.
— Elephant

Conceptually challenging, Parallel Lives vigorously explores the potential of the medium through immaculate line work, a safari of colour and a pleasing mastery of form.

— Gosh Comics