Dumb: Living Without a Voice (Hardcover)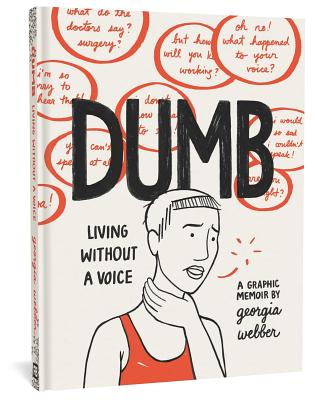 Staff Reviews
---
I used to edit a literary magazine with Georgia when we both lived in Montreal. I remember when she hurt her voice and could only speak for minutes a day, if at all, for months on end, resorting to scribbling in a notepad at editing meetings or launch parties. Dumb is not just a comic about, but truly an artifact of that period in Georgia's life. It captures not just the logistical frustrations of not speaking, but the painful existential crisis that accompanies an invisible injury, and the uncertain, endless-seeming path to recovery. An honest depiction of the self through a journey of hurt and healing, in isolation and within community.
— Gleb
Description
---
This graphic memoir is about how the author copes with her loss of voice due to injury.
Part memoir, part medical cautionary tale,
Dumb
tells the story of how an urban twentysomething copes with the everyday challenges that come with voicelessness. Webber adroitly uses the comics medium to convey the practical hurdles she faced as well as the fear and dread that accompanied her increasingly lonely journey to regain her life. Her raw cartooning style, occasionally devolving into chaotic scribbles, splotches of ink, and overlapping montages, perfectly captures her frustration and anxiety. But her ordeal ultimately becomes a hopeful story. Throughout, she learns to lean on the support of her close friends, finds self-expression in creating comics, and comes to understand and appreciate how deeply her voice and identity are intertwined.
About the Author
---
Georgia Webber is a comics artist, writer, and editor living in southern Ontario.
Praise For…
---
Webber's meditative graphic memoir is an ode to doggedness and a testament to resilience through change.

Webber's experiences make for fascinating, engrossing, and revelatory reading in her new graphic memoir, Dumb.


Webber wields the full power of the comics medium to address the life-changing catastrophe of being forced into silence.

Dumb is a wonderful story, elevated by its true-to-life nature. With each captivating turn of the page, Georgia Webber's personal journey is a stark reminder that no one, no matter how young or old, is invincible.