Look Who's Back (Paperback)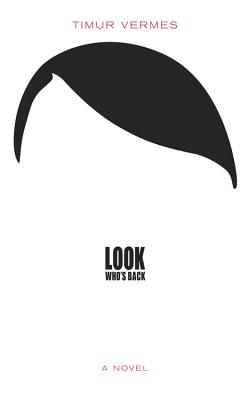 Description
---
HE'S BACK AND HE'S FUHRIOUS!
"Desperately funny . . . An ingenious comedy of errors." --Janet Maslin, The New York Times
"Satire at its best." --Newsweek
In this record-breaking bestseller, Timur Vermes imagines what would happen if Adolf Hilter reawakened in present-day Germany: YouTube stardom.
Adolf Hitler wakes up on a patch of open ground, alive and well. It's the summer of 2011 and things have changed--no Eva Braun, no Nazi party, no war. Hitler barely recognizes his beloved Fatherland, filled with immigrants and run by a woman.
People certainly recognize him--as a flawless impersonator who refuses to break character. The unthinkable happens, and the ranting Hitler goes viral, becomes a YouTube star, gets his own TV show, and people begin to listen. But the Fuhrer has another program with even greater ambition in mind--to set the country he finds in shambles back to rights.
With daring dark humor, Look Who's Back is a perceptive study of the cult of personality and of how individuals rise to fame and power in spite of what they preach.
About the Author
---
The son of a German mother and a Hungarian father who fled the country in 1956, Timur Vermes was born in Nuremberg in 1967. He studied history and politics and went on to become a journalist. He has written for the Abendzeitung and the Cologne Express and worked for various magazines. He has ghostwritten several books since 2007. This is his first novel.
Jamie Bulloch's translations include Ruth Maier's Diary, Portrait of a Mother as a Young Women by F. C. Delius, and novels by Paulus Hochgatterer and Daniel Glattauer.
Praise For…
---
Look Who's Back, the film, is streaming on Netflix!
An Independent Best Books of the Year selection
A New York Times Summer Reading Pick
"You know his name. You know his face. You know his hair and mustache, which are caricatured with sharp, witty minimalism on the cover of Look Who's Back, in which a baffled Adolf Hitler is returned to the even more baffled German people. Now you'll also know Timur Vermes, whose debut novel has created a sensation in Germany. [Look Who's Back] is desperately funny . . . Mr. Vermes has created an ingenious comedy of errors in which the jokes are either on Hitler's misapprehensions about the modern world or the modern world's refusal to take him at face value . . . Read this book."
—
Janet Maslin
,
The New York Times
"Very funny . . . The frisson of reading Look Who's Back comes from its seamless transition from Borscht Belt one-liners to disturbing invocations of the legacies of Nazi rule. Mr. Vermes gives us a bracingly double-sided Hitler-the arresting public speaker and astute negotiator who loves dogs and small children, and also the fanatical champion of political violence, global tyranny and ethnic cleansing . . . Translator Jamie Bulloch helps by providing a glossary at the close of the book, but what people will remember is his perfect rendering of the ridiculously orotund, yet oddly compelling, manner of Hitler's speechifying."
—
Sam Sacks
,
The Wall Street Journal
"We're startled into a genuine laugh . . . Vermes plays all of this straight, or at least deadpan. He is not a historian, but his presentation of the minutiae of Hitler's life amounts to an impressive feat of historical research . . . the ventriloquism here is impressive . . . The most striking and provocative feature of the narrative, in fact, is not the decision to resurrect Hitler but the choice to use him as a first-person narrator - to risk telling us more about Hitler than could be known, in Forster's phrase.—
Daniel Torday
,
The New York Times
"
Look Who's Back
is Hitler satire at its best . . . while there has been much debate over whether or why it's appropriate to laugh at Vermes's relentless Hitler satire, this well-researched and uproariously cringe-worthy book makes it hard not to . . . It is ultimately a sort of commentary on Hitler's first ascent to power-on the point at which a charismatic man starts being taken seriously, and what that transition entails . . . laugh-out-loud funny."—
Kira Bindrim
,
Newsweek
"A hilarious, yet poignant look at today's world through the eyes of one of its most horrific villains . . . the political and social satires translate will through the language barrier as the translator, Jamie Bulloch, did a fantastic job in the writing."—
Seattle Post Intelligencer
"
Look Who's Back
offers searing cultural and political commentary in the guise of a wildly entertaining story."—
Paste Magazine
"[A] wickedly satiric first novel . . . Hitler is, of course, deadly serious, and the dissonance between his earnest bigotry and the vacuousness of our media-soaked age is the comic grist that propels the novel toward its truly ironic conclusion. While German journalist ­Vermes has a good deal to say about the state of contemporary Germany, his reach here is more universal, as he's crafted a sardonic send-up of a media and a world where the message doesn't matter so long as your ratings are high and your videos go viral on YouTube."—
Library Journal
"Thrillingly transgressive."—
The Guardian
"The joke is not on the reanimated Fuhrer, spouting predictably on immigrant and Jews, but on the ironic flippancy of the YouTube generation . . . rollickingly enjoyable."—
Angel Gurria-Quintana
,
The Financial Times
"It is 2011 and Hitler is back and going viral in a darkly entertaining satire."—
The Sunday Times
"Hilarious . . . The appeal of the story is our our own reaction to a monster's view of how we live today. And being chilled by our own empathy with his disgust toward the media, politicians, government and, of course, technology . . .Vermes could have made the star of this book anyone from history. He's really telling us about ourselves."—
Esther Cepeda
,
Washington Post syndicated columnist
"For Vermes's novel is not so much a satire on Third Reich revisionism and nostalgia--although that plays its part--as on the blank ironies of amoral and fad-crazy multi-platform media. For parallels, think Sacha Baron Cohen and Chris Morris. The undead Fuhrer gets his first big break on a show hosted by a Turkish-origin comedian called Ali Gagmez."
—
Bolyd Tonkin
,
The Independent
"Packed with wry, close-to-the-knuckle hilarity, and builds to a gloriously ironic conclusion."—
Mail on Sunday
"Both funny and frightening, this is a subtle, historical study of the commanding nature of a fanatical demagogue, as well as a savage critique of contemporary western culture . . . a powerful and important book."—
Sue Gaisford
,
The Independent on Sunday
"Very funny"—
Financial Times
"What would happen if Adolf Hitler woke up in modern-day Berlin? In
a bestselling satirical novel, he'd end up a TV comedy star . . . [Look Who's Back] has unsurprisingly sparked debate in a country that has grappled for decades with Hitler's unconscionable legacy."
—
Time