How to Taste: The Curious Cook's Handbook to Seasoning and Balance, from Umami to Acid and Beyond--with Recipes (Hardcover)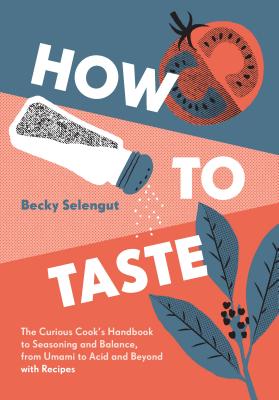 Staff Reviews
---
This funny and extremely helpful guide for seasoning food has changed how I cook and how I eat. Not sure what a dish needs? Want to reverse engineer your favorite restaurant meal? Can't figure out why your cooking is bad? Want to save food that's too salty, sweet, or spicy? This book will help with all of that and more.
— Katy
Description
---
This engaging and approachable (and humorous!) guide to taste and flavor will make you a more skilled and confident home cook

How to Taste outlines the underlying principles of taste, and then takes a deep dive into salt, acid, bitter, sweet, fat, umami, bite (heat), aromatics, and texture. You'll find out how temperature impacts your enjoyment of the dishes you make as does color, alcohol, and more. The handbook goes beyond telling home cooks what ingredients go well together or explaining cooking ratios. You'll learn how to adjust a dish that's too salty or too acidic and how to determine when something might be lacking. It also includes recipes and simple kitchen experiments that illustrate the importance of salt in a dish, or identifies whether you're a "supertaster" or not. Each recipe and experiment highlights the chapter's main lesson.

How to Taste will ultimately help you feel confident about why and how various components of a dish are used to create balance, harmony, and deliciousness.
About the Author
---
When she's not squid jigging, fishing, or cavorting through the woods picking wild things for her next meal, BECKY SELENGUT is a private chef, author, humorist, and cooking teacher. A regular instructor for PCC Natural Markets and The Pantry, Selengut is also a private chef and the author of two other books: Good Fish: Sustainable Seafood Recipes from the Pacific Coast and Shroom: Mind-Bendingly Good Recipes for Cultivated and Wild Mushrooms, and co-author of Not One Shrine: Two Food Writers Devour Tokyo. In her spare time she co-hosts a comedy podcast called Look Inside This Book Club where she reviews only the free Look Inside samples of outrageous romance novels. Selengut lives on Capitol Hill in Seattle with her wife and their two dogs.
Praise For…
---
"Becky is a cook of enviable talent and a generous, insightful teacher. She somehow manages to cram an entire culinary education into just 200-odd pages using both hard science and sharp wit, and including kitchen experiments and recipes I can't wait to make, from Sweet Potato Soup with Chile and Lemongrass to her grandmother's brisket. I love this book."
—Molly Wizenberg, author of A Homemade Life and Delancey
 
"Does your dish need salt, acidity, sweetness, or all three? What do 'astringent' and 'umami' feel like in your mouth, anyway? Becky Selengut is a chef of the people, and in this hilarious and practical manifesto, she answers those questions and many more. Your tongue is going to come out of this 100 percent smarter."
—Matthew Amster-Burton, author of Pretty Good Number One: An American Family Eats Tokyo
 
"How to Taste is an informative, entertaining journey inside your own mouth. Selengut's writing is so well-seasoned with humor that you're challenged to complete the book without at least one retronasal laugh [snort]."
—Scott Heimendinger, technical director, Modernist Cuisine

"Selengut explains the mysteries of human taste, not simply to offer scientific theory but to help both cooks and eaters to figure out how to improve their own discernment and appreciation of one of the most elusive and subjective of the five senses....A wealth of accessible, practical information marks this as a singular achievement."
—Booklist, starred review

"I don't want to spoil the experiments in Selengut's new book, How to Taste, for they are fascinating, fun and sometimes super-surprising, as is the book itself . . . Selengut's book about how to [taste more astutely and, in so doing, learn how to make (your) food taste better] is a delightful, full-on geek-out."
—The Seattle Times

"This book should be your new go-to guide in the kitchen...[Selengut's] prose is witty, and the science is presented at just the right level of food nerdiness."
—Seattle Magazine

"Moving flavor by flavor, from salt through unami, [Selengut] leads you through the effects of each adjustment you make and provides ingenious experiments to make those effects discernible on your tongue. What delicious, instructive fun!"
—NW Book Lovers 

"Just the right amout of geeky food science, laugh-out-loud humor, and aha moments on every page... How to Taste will give you the experience and science that you need to feel confident about your cooking decisions."
—Everybody Craves