Dietrich & Riefenstahl: Hollywood, Berlin, and a Century in Two Lives (Paperback)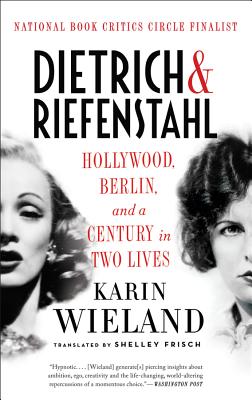 Unavailable, our apologies.
Sorry, We Can Not Obtain this Book at This Time
Description
---
Finalist for the National Book Critics Circle Award (Biography)

Named of the Best Books of the Year by the Washington Post and the Boston Globe
Magisterial in scope, this dual biography examines two complex lives that began alike but ended on opposite sides of the century's greatest conflict.
Marlene Dietrich and Leni Riefenstahl, born less than a year apart, lived so close to each other that Riefenstahl could see into Dietrich's Berlin apartment. Coming of age at the dawn of the Weimar Republic, both sought fame in Germany's burgeoning motion picture industry. While Dietrich's depiction of Lola-Lola in The Blue Angel catapulted her to Hollywood stardom, Riefenstahl—who missed out on the part—insinuated herself into Hitler's inner circle to direct groundbreaking if infamous Nazi propaganda films, like Triumph of the Will. Dietrich, who toured tirelessly with the USO, could never truly go home again; Riefenstahl could never shake her Nazi past. Acclaimed German historian Karin Wieland examines these lives within the vicious crosscurrents of a turbulent century, evoking piercing insights into "the modern era's most difficult questions, about illusion and mass intoxication, art and truth, courage and capitulation" (New Yorker).
About the Author
---
Karin Wieland lives in Berlin and is an historian of political theory at the Hamburg Foundation for the Advancement of Science and Culture.

Shelley Frisch is the prize-winning translator of biographies of Nietzsche, Einstein, and Kafka. She lives in Princeton, New Jersey.
Praise For…
---
[Dietrich and Riefenstahl has] credibility, texture, and unending interest.

— Claudia Roth Pierpont - New Yorker

[A] lively, deliciously gossipy dual biography.
— Kate Tuttle - Boston Globe

[With] hypnotic power…. Wieland uses these two virtuosos' lives to generate piercing insights about ambition, ego, creativity and the life-changing, world-altering repercussions of a momentous choice.
— Michael Sragow - Washington Post

Illuminating…. Via a fluent, often witty translation by Shelley Frisch, Wieland draws the portrait of women who were ambitious to a degree stunning in their day. Moreover, by tracking their divergent careers together, she is able subtly to suggest some answers to a question that hangs over every mid-century German artist: what kind of responses were available to the Nazi apocalypse?
— Farran Smith Nehme - The Guardian (UK)