Witches, Witch-Hunting, and Women (Paperback)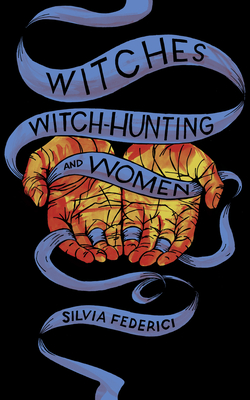 Staff Reviews
---
In her landmark text, Caliban and the Witch, Federici sets out a compelling demonstration of the deep connection between gendered violence and capitalist accumulation. This new monograph begins with an alternate introduction to Caliban, "Why Speak of the Witch Hunts Again?," and the first half is a concise summary of its argument. The second half looks at the startling uptake of literal witch-hunts today as a demonstration of her central claim: that the mass persecution of women in capitalizing societies has an essential connection to land enclosure and colonial dispossession. A good commute-length primer to an influential text.
— Cam
Description
---
The world is witnessing a new surge of interpersonal and institutional violence against women, including new witch hunts. This surge of violence has occurred alongside an expansion of capitalist social relation. In this new work, Silvia Federici examines the root causes of these developments and outlines the consequences for the women affected and their communities. She argues, that this new war on women, a mirror of witch hunts in 16th- and 17th-century Europe and the "New World," is a structural element of the new forms of capitalist accumulation. These processes are founded on the destruction of people's most basic means of reproduction. Like at the dawn of capitalism, the factors behind today's violence against women are processes of enclosure, land dispossession, and the remolding of women's reproductive activities and subjectivity.
About the Author
---
Silvia Federici is a feminist writer, teacher, and militant. In 1972 she was co-founder of the International Feminist Collective that launched the campaign for Wages for Housework internationally. Her previous books include Caliban and the Witch and Revolution at Point Zero. She is a professor emerita at Hofstra University, where she was a social science professor. 
Praise For…
---
"It is good to think with Silvia Federici, whose clarity of analysis and passionate vision, comes through in essays that chronicle enclosure and dispossession, witch-hunting and other assaults against women, in the present, no less than the past. It is even better to act armed with her insights." —Eileen Boris, Hull Professor of Feminist Studies, University of California, Santa Barbara
"Silvia Federici's new book offers a brilliant analysis and forceful denunciation of the violence directed towards women and their communities. Her focus moves between women criminalized as witches both at the dawn of capitalism and in contemporary globalization. Federici has updated the material from her well-known book Caliban and the Witch and brings a spotlight to the current resistance and alternatives being pursued by women and their communities through struggle." —Massimo De Angelis, professor of political economy, University of East London
"In her latest, a slim and powerful volume of essays, Federici revisits the links between the centuries-old witch hunts of Europe and the rise of capitalism that she examined in Caliban and the Witch: Women, the Body and Primitive Accumulation, published in 2004—and then expands on them. She addresses numerous issues in the text, ranging from fear of women's power; institutional and interpersonal violence against women; the links between modern day witch hunting and globalization; and the need for feminist solidarity across lines of race, class and gender identity. Federici reminds the reader that when not used primarily for procreation, female sexuality has been historically viewed as powerfully diabolical—the quintessence of female "magic," central to the definition of witchcraft. She views the current systems of political and cultural power as drawing from some of those old dangerous beliefs." —Interview, Ms. Magazine
"But, of course, no group of men has a monopoly on the investment in patriarchy. As Silvia Federici reminds us in her new book,
Witches, Witch-Hunting, and Women
, there is, across the planet, an escalation of forms of violence against women, often imposed with a 'pedagogic cruelty,' that are perpetrated from within oppressed communities. For Federici, gender is as historical as race is for Du Bois, and is fundamentally entangled with modes of exploitation and labour. She is careful to draw the connections between forms of violence perpetrated within and against oppressed communities. When men who are exploited or rendered superfluous by global capitalism find themselves without paths into a viable life and, subject to social scorn, they can experience a sense of power by an investment in patriarchy. When this becomes entwined with the militarisation of daily life, and the contempt of a state and wider society that ascribe no real value to the lives of impoverished people, the stage is set for the performance of sadism, violation, torture and murder." —
https://mg.co.za/article/2018-10-05-00-reject-the-grotesque-logic-of-oppression
"Undoing patriarchy is a gargantuan process. Honesty about gender relations in the context of global capitalism is key, Federici argues, to creating the new world of equity and sustainability between and among people of all genders. Her new book is a necessary resource for that social change." —Seth Sandronsky, 
http://www.populist.com
"In her new monograph,
Witches, Witch Hunting, and Women
, Silvia Federici condemns the commercialization of sites of witch hunts in Europe: 'Sites of famous trials and persecutions that led to the execution of dozens of women are now parading in shop after shop doll-like representations of witches.' In Salem, the exploitation of this suffering is perhaps still more extreme, especially around Halloween. The trials have become a major part of the town's culture and economy, unimpeded by the small detail that Danvers, one town over from present-day Salem, was the actual site for most of the witch trials. Trivializing the death of those convicted of witchcraft—mainly women—is a form of violence, and Federici challenges us to consider that 'denouncing the commerce made of women's bodies and their death to boost tourism' is an important step in toppling patriarchal domination. By extension, one could argue that the flagrant misuse of the term 'witch hunt' as a political meme also abuses the memory of those who were actually hunted as witches. —
http://bostonreview.net/politics/jonathan-beecher-field-not-witch-hunt
"Federici's attempt to draw together the work of feminists and activist from different parts of the world and place them in historical context is brave, thought-provoking and timely. Federici's writing is lucid and her fury palpable." —Jessica White, Red Pepper Magazine
How the Demonization of "Gossip" Is Used to Break Women's Solidarity Gender oppression shaped the notion of "idle women's talk." The following is an excerpt from Silvia Federici's book, Witches, Witch-Hunting, and Women. —feature article: In These Times, http://inthesetimes.com/article/21707/the-subversive-feminist-power-of-gossip
"Federici is not just relevant but getting more so every second. Throughout her work, she traces how capitalism affects and infects the 'private,' feminine sphere of unwaged domestic and reproductive work; she excavates intimacy, uncovering all its toxic layers of lead paint and asbestos, until its exploitative foundations are clear. Her work is essential to decoding the present moment, as capitalism and patriarchy entwine to produce increasingly grotesque offspring: predatory adoption agencies coercing women into giving up their babies; the exorbitant cost of childcare causing single working mothers to go bankrupt; entire industries where the opportunity to abuse women with impunity is a perk for the powerful men up top. And, thank goodness, we seem to know it; half the young leftist women writing today are riffing on Federici's work…The elegance of this argument, the neat way it knots together public and private, is thrilling. There are moments when Federici makes sense like no one else." —Sady Doyle, In These Times