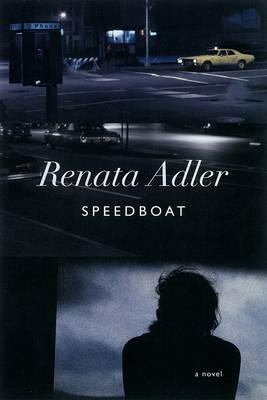 Unavailable, our apologies.
Sorry, We Can Not Obtain this Book at This Time
Staff Reviews
---
Perhaps the perfect New York novel.
— Sam
Reading this quintessential New York novel is like using the Street View option in Google Maps: you can see everything, but not all of it, and not all at one time.
— Matt
Since Watergate, Renata Adler believes that the best way to tell true journalism is through fiction. Have you ever gone to a loft party, had a wonderful time until about half-way through when you realize each person there is like a parody of society? Adler feels you.
— Rachel
Description
---
One of the most acclaimed novels of the late 20th century is back.

When members of the National Book Critics Circle were polled to see which book they would most like to see republished, they chose Speedboat—"by far." This story of a young female newspaper reporter coming of age in New York City was originally published serially in the New Yorker; it is made out of seemingly unrelated vignettes—tart observations distilled through relentless intellect—which add up to an analysis of our brittle, urban existence. It remains as fresh as when it was first published.
About the Author
---
Renata Adler was, for nearly 40 years, one of the "New Yorker"'s most well-known--not to mention controversial--writers. Reporting on ranging issues, from the Selma riots to Vietnam, the Biafran wars and American culture in general, she was one of the era's most important journalists. She was also acclaimed for several seminal books of reportage, including "Reckless Disregard" and "A Year in the Dark," a collection of her film criticism written for the "New York Times."

But Adler's fiction writing made an equally big splash. Her very first story publication, "Brownstone," won the O. Henry Award as best story of the year; and then as one of the O. Henry Prize's best stories of the decade. Her first novel, "Speedboat," was a bestseller and won the Ernest Hemingway Award for Best First Novel of the year. Her second novel, "Pitch Dark," an even bigger bestseller, also achieved widespread acclaim, prompting "New York Times Book Review" editor John Leonard to say in a review, "Nobody writes better prose than Renata Adler."
Praise For…
---
"It is a brilliant collage, an assemblage of tiny anecdotes, vignettes, overheard conversations, aphorisms and reflections."
—Charles McGrath in The New York Times

"Nobody in this country writes better prose than Renata Adler's."
—John Leonard, Harper's