Life, Only Better (Paperback)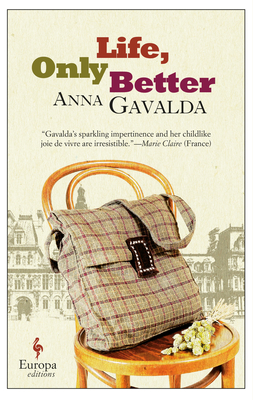 Description
---
Mathilde is twenty-four. She has abandoned her studies in art history in lieu of a menial job and lives in a house she shares with twin sisters. One day she forgets her bag in a café and a week later an unknown man returns it to her. Following this encounter, Mathilde decides to throw caution to the wind and change her life entirely.
 
Yann is twenty-six, a university graduate, unemployed. There may be better days ahead. Maybe. While waiting for them to come, he works as a sales assistant in a home appliances store. He wouldn't say he is unhappy. But sometimes, late at night, when he is crossing a bridge over the River Seine, he imagines jumping. One day he does a favor for one of his neighbors and is asked to stay for dinner as thanks. The following morning Yann throws caution to the wind and decides to change his life entirely.
 
These two novellas by best-selling author Anna Gavalda are among her most moving and inspiring. Love in this book is a fragile emotion, easily ruined and eternally subject to the consequences of one's choices. Gavalda's great gift is the directness with which she addresses her readers in a voice that is at once inventive, forceful, and intimate. Life, Only Better is a touching, cleverly crafted book about choices and their consequences.
About the Author
---
Anna Gavalda's first published work was the critically acclaimed collection of short stories I Wish Someone Were Waiting for Me Somewhere, which sold over half a million copies in her native France and was published in the US by Riverhead in 2003. She is also the author of Someone I Loved, Hunting and Gathering, made into a film starring Audrey Tautou and Daniel Auteuil, French Leave (Europa 2011), and Billie (Europa 2015). Gavalda lives in Paris.

Tina Kover's published works include the Modern Library translation of Georges by Alexandre Dumas pére, The Black City by George Sand (Carroll & Graf), and Maurice G. Dantec's Cosmos Incorporated and Grand Junction. In 2009 she received a National Endowment for the Arts Literature Fellowship for the translation of Manette Salomon by the Goncourt borthers.
Praise For…
---
Praise for Life, Only Better

"Both stories have a sentimental streak, but Ms. Gavalda, a best-selling author in her native France, puts them across with charm."
—The New York Times

"This is an effervescent book, comprised of two equally well-rounded stories. Mathilde and Yann feel like old friends by the end of each story."
—New York Journal of Books

"With writing this beautiful and charming, and heartbreakingly sincere, Gavalda makes the journey well worth the effort."
—The Cedar Rapids Gazette


Praise for Anna Gavalda

"The qualities that make Anna Gavalda unique include precision, tenderness for her characters, a sense of detail, an intoxicating mix of nostalgia, and a capacity for joy."
—Le Figaro

"Gavalda's sparkling impertinence and her childlike joie de vivre are irresistible."
—Marie Claire (France) 

"A sensitive, delicate, funny, immensely readable story...Billie is a revelation!"
—Olivia de Lamberterie, France 2 

"Her simplicity, warmth, and desire to share is amazing...Honest and open, alternating swift statements that stick in the mind with secret confessions, generous and radiant, Anna Gavalda is simply awesome."—Bookseller, France