By My Hand (Commissario Ricciardi #5) (Paperback)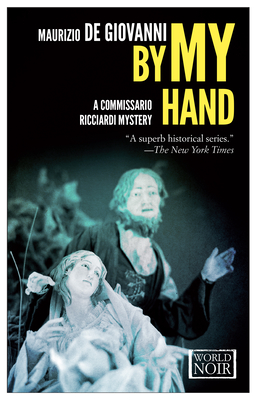 Unavailable, our apologies.
Other Books in Series
This is book number 5 in the Commissario Ricciardi series.
Description
---
As Naples prepares for its holiday celebrations, behind the facade of order and happiness imposed by the fascist regime, lurks terrible poverty and blinding desperation. In a luxurious apartment on the Mergellina beach the bodies of a fascist militia officer and his wife have been found. The woman has had her throat cut while the man has been stabbed over sixty times. Seemingly, the hands of two separate killers have been at work. A statuette of San Giuseppe, patron saint of workers, lies in pieces on the floor. At the scene of the crime, Ricciardi, who has the dubious gift of being able to see and hear the last seconds in the lives of those who have suffered a violent death, listens to the enigmatic last words of the couple. Accompanied by his faithful partner Brigadier Raffaele Maione, and once more troubled by two women who compete for his attentions, the Commissario will have to trace a wide and frenetic arc through the streets of Naples in order to uncover the truth.
About the Author
---
Maurizio de Giovanni lives and works in Naples. He is the author of four previous books in the Commissario Ricciardi series, I Will Have Vengeance, Blood Curse, Everyone in their Place, Day of the Dead, and the contemporary Neapolitan thriller, The Crocodile.
Praise For…
---
"In Ricciardi, De Giovanni has created one of the most interesting and well-drawn detectives in fiction, and this book is a real treat that should not be missed by crime lovers."—The Daily Beast (Weekly "Hot Read")
 
"In I Will Have Vengeance The combination of an unusual detective, historical setting and Italian opera was impossible to resist."—Crimetime.co.uk
 
"A wonderfully suspenseful novel in which de Giovanni restores life to the cliché of the world-weary detective"—Kirkus Starred Review
 
"Such detailed images in the novel that will haunt me for a long time to come"—Books and Writers
 
"A colorful novel that imparts a strong sense of time and place...there's more than a touch of Agatha Christie in this tale"—Curious book fans