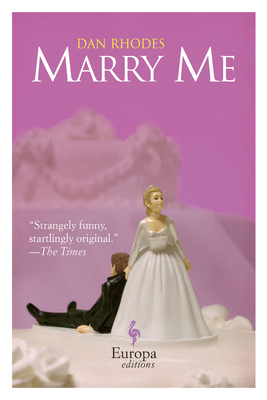 Unavailable, our apologies.
Sorry, We Can Not Obtain this Book at This Time
Description
---
For every happily-ever-after fairy tale that waxes poetic about true love, there is a piece of flash fiction from Dan Rhodes to provide the perfect antidote. In this collection of bite-sized vignettes, Rhodes masterfully explores the distance between what we believe is real and what others know to be true–and nowhere is this distance greater than in the realm of romance. 

Told with inimitable humor, with, and irony, as well as deep undrstanding and compassion, these short stories are guranteed to elicit both yelps of laughter and winces of recognition. All offer the gift of humor, though none are a paean to the institution of marriage. By turns poignant, surprising, and laugh-out-loud funny, Dan Rhodes has created a fresh and recognizable cast of scorned lovers, jilted fiancées, and vengeful spouses who wholeheartedly subscribe to the adage that "all is fair in love and war."
About the Author
---
Dan Rhodes is the author of seven books: Anthropology and A Hundred Other Stories, Don't Tell Me the Truth About Love, Timoleon Vieta Come Home, Gold, Little Hands Clapping, This is Life and (writing as Danuta de Rhodes) The Little White Car. Rhodes was named one of Granta magazine's Twenty Best of Young Adult British Writers in 2003 and one of the Daily Telegraph's Best British Novelists Under 40 in 2010. He is the winner of several awards, including the Author's Club First Novel Award and the E.M. Forster Award. He lives in Derbyshire, England.
Praise For…
---
Praise for Marry Me

"A scintillating collection of ultra short stories...which made me laugh out loud."
—The Independent

"Few writers can match Rhodes gag for gag; fewer still can match his effortless creation of a fully realised fictional universe."
—The Daily Telegraph
 
"Savagely funny, startlingly original."
—The Times
 
"Oh, how we love Dan Rhodes ... Reliably odd but fabulous."
—The Guardian

"Rhodes is that real, rare thing–a natural storyteller."
—The Sunday Times

"Original and seriously flippant. Rhodes...has a comedian's talent for the deadpan."
—The Observer
 
"Dan Rhodes is a true original, with a fresh, funny, quirky style that seems to owe nothing to other writers and everything to his own powers of invention."
—Hilary Mantel, author of Wolf Hall