A Long Way from Verona (Paperback)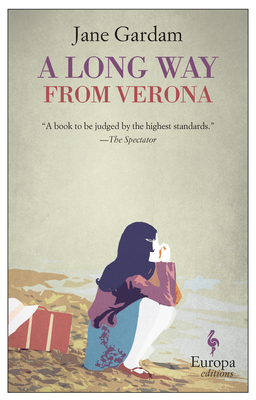 Description
---
Jane Gardam's marvelous stories of young girls on the threshold of womanhood—God on the Rocks and Crusoe's Daughter—have delighted fans and critics alike. These "modern classics" (The Independent) are now joined by a new novel that is equally fresh and genuine, comic and touching.

Jessica Vye introduces herself with an enigmatic pronouncement: "I ought to tell you at the beginning that I am not quite normal, having had a violent experience at the age of nine." A revered author has told Jessica that she is, beyond all doubt, a born writer. This proves an accurate prediction of the future, one that indelibly colors her life at school and her preception of the world.

Jessica has always known that her destiny would be shaped by her refusal to conform, her compulsion to tell the absolute truth, and her dedication to observing the strange wartime world that surrounds her. What she doesn't know, however, is that the experiences and ideas that set her apart will also lead her to a new and wholly unexpected life. Told with grace and inimitable wit, A Long Way to Verona is a wise and vivid portrait of adolescent discovery and impending adulthood.
About the Author
---
Jane Gardam is the only author to have twice been awarded Britain's prestigious Costa (formerly Whitbread) Award for Best Novel. She is widely known for her revered trilogy: Old Filth, The Man in the Wooden Hat, and Last Friends. She lives in the south of England by the sea.
Praise For…
---
Praise for A Long Way from Verona

"A Long Way from Verona is a brilliant, witty, and agonizingly true-to-life novel."
—The Times Literary Supplement

"A fiercly funny and personal book."
—The Economist

"Jane Gardam is a wonderful writer. Her understanding of character and use of language are both remarkable."
—The Times

Praise for Jane Gardam

"Jane Gardam has a spectacular gift for detail of the local and period kind, and for details which make characters so subtly unpredicatble that they ring true."
—The Times Literary Supplement

"Gardam is the best kind of literary escape: serious, mesmerizing, and deeply satisfying. Who, in these times, doesn't need this kind of palliative"
—LA Review of Books