Garlic, Mint, and Sweet Basil: Essays on Marseilles, Mediterranean Cuisine, and Noir Fiction (Paperback)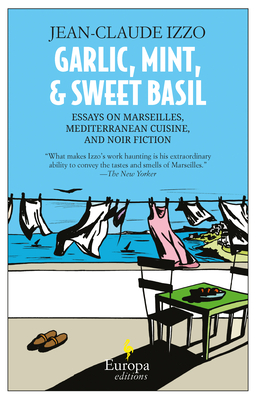 Unavailable, our apologies.
Sorry, We Can Not Obtain this Book at This Time
Description
---
From the father of the Mediterranean Noir genre.

A short sublime book on the three things dearest to Jean-Claude Izzo's heart: his native Marseilles, the sea in all its splendor, and Mediterranean noir—the literary genre his books helped to found. This collection of writings shows Izzo, author of the acclaimed Marseilles trilogy, at his most contemplative and insightful. His native city, with its food, its flavors, its passioante inhabitants, and its long, long history of commerce and conviviality, constitute the lifeblood that runs through all of Izzo's work.

Reminiscent of Henry Miller's The Colossus of Maroussi and the lyrical essays of Antoine de Saint-Exupéry and Albert Camus, as uplifting and touching as Daniel Klein's Travels with Epicurus, this slender volume will appeal equally to gourmets who delight in the strong flavors of Mediterranean cuisine, to those travelling on the Riviera (or arm-chair travelers who wish they could), and, naturally, to aficionados of noir fiction.
About the Author
---
Jean-Claude Izzo was born in Marseilles, France, in 1945. He achieved astounding success with his Marseilles Trilogy (Total Chaos, Chourmo, Solea). In addition to the books in this trilogy, his two novels (The Lost Saliors, and A Sun for the Dying) and one collection of short stories (Vivre fatigue) also enjoy great success with both critics and the public. Izzo died in 2000 at the age of fifty-five.
Praise For…
---
Praise for Jean-Claude Izzo
"A real delight."
—Andrea Camilleri, author of the bestselling Inspector Montalbano series
"[Izzo's] essays...reveal a man of deep feeling and humanity."
—
The Guardian
"What makes Izzo's work haunting is his extraordinary ability to convey the tastes and smells of Marseilles."
—
The New Yorker


"Mr. Izzo was a marvelous food writer...His books are filled with winning descriptions of Provencal meals run through with the flavors of north Africa, Italy, Greece."
—Sam Sifton,
The New York Times
"Just as Raymond Chandler and James Ellroy made Los Angeles their very own, so Mr. Izzo has made Marseilles so much more than just another geographical setting."
—
The Economist
"In Izzo's books...Marseilles is a 'ville selon nos coeur,' a city in tune with our heart...A cosmopolitan, maritime city, greedy, sensual and warm."
—Michel Samson, Slow Food

"Our last true romantic, Jean-Claude Izzo transmits warmth to his readers, as if granting them a mouthful of pure love."
—Le Point (France)