Rondo: A Novel (Paperback)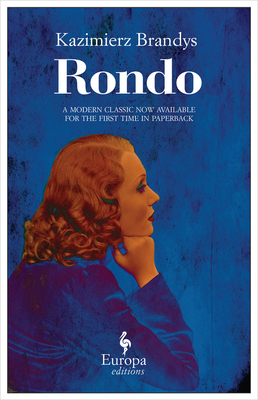 Unavailable, our apologies.
Sorry, We Can Not Obtain this Book at This Time
Description
---
In Rondo, Kazimierz Brandys eloquently explores many of the obsessions of contemporary literature—politics, war, art, and personal exile—against the backdrop of a touching, enthralling love story. One of the previous century's great literary figures, Brandys "quickened the conscience and enriched the writing of the 20th century" (Time). Rondo is the culmination of a career of gripping portrayals of ordinary people in the mode of Socialist Realism that made him an icon.

In his own words, Tom is an insignificant man, powerless to effect changes even in himself let alone in others. He is pathologically normal, with "something of Buster Keaton" to him. Yet an initially harmless fabrication motivated by his love for Tola, an actress of the Warsaw stage, will move him to center stage in one of the 20th century's most infamous conflicts and will ultimately change the course of history.

Following the Nazi occupation of Warsaw at the outset of WWII, Tola wants to enlist in the Polish Resistance. To protect her, Tom, whose family connections have unexpectedly made him the symbolic heir to Polish nationalism, conscripts Tola into an imaginary political cadre—"Rondo." The idea is innocent at first, little more than a flight of Tom's fantasy, but through its own comic momentum, Rondo unexpectedly becomes a major player in the Polish underground. When Tom is drawn into the internal politics of the real Resistance, the results are not only highly entertaining but telling of the eternal follies of war.
About the Author
---
Kazimierz Brandys was born in Poland in 1916. He was awarded numerous prizes, including the Jurzykowski (1982), Prato-Europa (1986) and Ignatio Silone (1986). Brandys was made a member of the French Order of Fine Arts and Literature in 1993. He died in France in 2000.
Praise For…
---
Praise for Rondo

"Kazmierz Brandys is one of the major Polish novelists of the postwar period...Rondo [is] packed with penetrating wisdom and worldly experience...Those adventurous American readers willing to try this novel by a masterful, relatively unknown foreign author will discover that Brandys has done the impossible."
—Phillip Lopate, The New York Times Book Review

"May prove impossible to forget."
—Library Journal

"A challenging but politically and morally astute take on the emotional impact of war."
—Kirkus Reviews

"If in the next centuries the world is still inhabited by civilized men, Rondo is one of the novels that will be most cherished and appreciated."
—Corriere della Sera (Italy)

"In this polyphonic novel, many voices join in a dramatic choir that embraces both the past and the future, the apparent and the authentic, theater and history."
—Le Figaro (France)