Bread & Wine: An Erotic Tale of New York (Hardcover)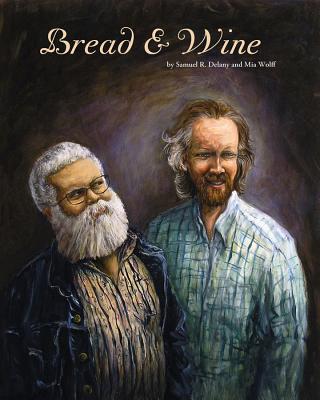 Staff Reviews
---
The most convincing love stories are the forbidden ones: Romeo & Juliet, Lolita & Humbert Humbert, Jake & Ennis. Add to that list the very nonfictional Chip & Dennis, famous science fiction writer and homeless New Yorker. Bread & Wine gets down and dirty (not to mention really, really smelly) in all the wrong ways (the right ways?), but it's also an intelligent paean to marginalized erotic subjectivities, and a lofty, Hölderlin-infused testimony to love's utter disregard for difference.
— Matt
Description
---
Bread & Wine is black, gay science-fiction writer (Dhalgren) Samuel R. Delany's autobiographical graphic novel, drawn by Mia Wolff, about how he met a homeless man, Dennis, who became his partner.
The runaway critical and commercial success of Alison Bechdel's
Fun Home
has paved the way for the re-issue of
Bread & Wine
. Written by black, gay science-fiction writer, professor, and theorist Samuel R. Delany, and drawn by artist/martial arts instructor Mia Wolff,
Bread & Wine
is a graphic autobiography that flashes back to the unlikely story of how Delany befriend ed Dennis, and how they became an enduring couple—Delany, a professor at Philadelphia's Temple University, Dennis, an intelligent man living on the streets. For casual readers and fans,
Bread & Wine
is a moving, sexually charged love story, with visuals informed by Wolff's professional physical pursuits. Her black-and-white, pen-and-ink work not only expressionistically represents the characters' "body language" and the bustling New York setting, but is also filled with impish art references and visual puns. The scholarly potential for the book, based on the poem "Bread and Wine" by the German lyric poet Friedrich Holderlin, not only encompasses queer, African-American, and graphic novel studies, but also exploration in the literary and paraliterary academic fields. This edition includes an introduction by
Watchmen
writer Alan Moore, commentary by the book's protagonists, Delany and Dennis, and a new interview with Delany and Wolff.
About the Author
---
Samuel Ray Delany, Jr., also known as "Chip," is an American writer and Science Fiction Hall of Fame inductee (in 2002), and a recipient of four Nebula awards and two Hugo awards over the course of his career. He is a professor of English and Creative Writing at Temple University in Philadelphia, where he is Director of the Graduate Creative Writing Program.

Mia Wolff obtained her BFA in Painting from Pratt Institute in 1973 and ran away to the circus in 1976. She lives in New York City, New York.

Alan Moore is a magician and performer, and is widely regarded as the best and most influential writer in the history of comics. His seminal works include From Hell, V for Vendetta, and Watchmen, for which he won the Hugo Award. He was born in 1953 in Northampton, UK, and has lived there ever since.