On Modern Beauty: Three Paintings by Manet, Gauguin, and Cézanne (Paperback)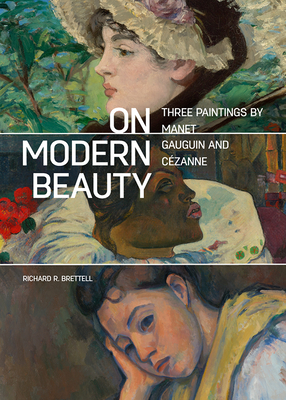 Unavailable, our apologies.
Sorry, We Can Not Obtain this Book at This Time
Description
---
A thought-provoking examination of beauty using three works of art by Manet, Gauguin, and Cézanne. As the discipline of art history has moved away from connoisseurship, the notion of beauty has become increasingly problematic. Both culturally and personally subjective, the term is difficult to define and nearly universally avoided. In this insightful book, Richard R. Brettell, one of the leading authorities on Impressionism and French art of the nineteenth and early twentieth centuries, dares to confront the concept of modern beauty head-on. This is not a study of aesthetic philosophy, but rather a richly contextualized look at the ambitions of specific artists and artworks at a particular time and place.
 
Brettell shapes his manifesto around three masterworks from the collection of the J. Paul Getty Museum: Édouard Manet's Jeanne (Spring), Paul Gauguin's Arii Matamoe (The Royal End), and Paul Cézanne's Young Italian Woman at a Table. The provocative discussion reveals how each of these exceptional paintings, though depicting very different subjects—a fashionable actress, a preserved head, and a weary working woman—enacts a revolutionary, yet enduring, icon of beauty.
 
About the Author
---
Richard R. Brettell, the founding director of the Edith O'Donnell Institute of Art History and the Margaret McDermott Chair of Aesthetic Studies at the University of Texas at Dallas, passed away in 2020.
Praise For…
---
"On Modern Beauty is a well-illustrated and thought-provoking book about different aspects of beauty in French painting of the period."
 
— Alexander Adams Art

"An extraordinarily ambitious . . . commentary, one of those rare revelatory art history books that opens your eyes, and, it can be said, a real page-turner, a clichéd phrase that only applies very rarely, in my experience, to art history writing."
 
— Hyperallergic

"Brettell's skill at leading the viewer through formal as well as art historical details of certain paintings can be eye-opening to both novice students of art appreciation as well as art historians and curators, leading them to a lifetime of aesthetic pleasure."
 
— Caroline Boyle-Turner